For 42 years there were two Methodist Circuits centred on Longford. The first was established by the Wesleyan Society in 1848 with the second by the Primitive Methodist Connextion, commencing in 1860. They would operate separately till joining together in 1902 forming the Methodist Church of Australasia. A further change occurred in 1976 with the coming together of the Methodist, Congregational and some Presbyterian Churches to form the Uniting Church in Australia.
The Early Years
The Quarterly Balance Sheet for the period ending September 1848 provides a glimpse of the Longford Circuit Wesleyan's activities at that time.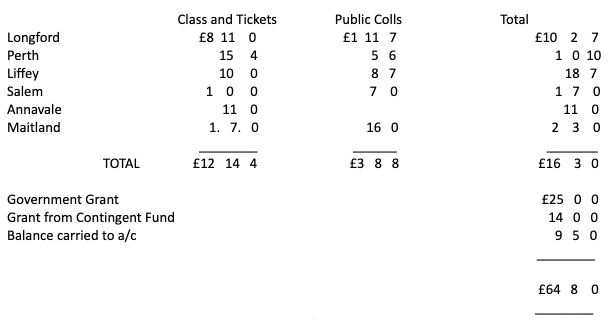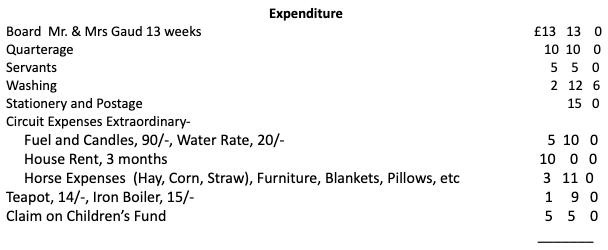 The first Wesleyan minister was Rev. Henry Honey Gaud (1811-1882). He was a native of Devonport, Devon, England and commenced in ministry in 1835. In 1839 the Wesleyan Conference appointed him as a missionary to Launceston, Van Diemen's Land. He came to Longford in 1848 ministering there till 1851 then moving to Hobart Town as minister to the Seaman's Mission.
In writing of the work of the Circuit in his first year (1848) Mr. Gaud wrote, "There is much in the Circuit for which to be thankful to the God of all grace. The religious state of the societies is such as to afford cause for joy. The labours of five local preachers are acceptable to the people and honoured of God. But for these many would never hear the life-giving word."
The Wesleyan Methodists had commenced a Society at Longford in 1834 and were part of the Launceston Circuit. The first church at Longford was opened in 1837. Other congregations were soon established, Perth (1838), Cressy (1839), and Salem (1840). By 1848 there were other congregations at Liffey, Maitland and Annavale with later congregations to be found at Bishopsbourne (1850), Butleigh Hill (1860), and Little Hampton (1875). The Little Hampton church had been built at Maitland in 1863 but was moved in 1875 to a corner of the Little Hampton farm, located 1½ miles from the Bishopsbourne township and fronting onto the road to Longford. The Liffey church building was erected in 1875 on the Kerkham's Liffey Farm property, located midway between Bishopsbourne and Carrick, but was moved to Elphinstone Road Cressy in 1909, with the congregation taking the name of Elphinstone, they previously being known as Melrose.
The Primitives arrived at Longford in 1860, after visiting in 1859, and soon purchased land for a church and a minister's residence. A church was built and opened in 1861 and a Sunday School opened in January 1860. They soon reached out to other nearby areas, conducting church activities at Evandale, Perth, Bishopsbourne, Bracknell and Mountain Vale, the latter located in the Upper Liffey area. Churches were built at Bracknell and Mountain Vale, funded and built by local members.
Circuit Ministers
With both the Wesleyans and The Primitives having a policy of limiting ministry terms to three years, this resulted in a long list of ministers over the years passing through the Circuit. (See listing attached). For the Wesleyans between 1848 and Union in 1902 they numbered 23 and The Primitives from 1860 to 1902, 16 ministers. From 1902 (Union) till 1976 when changing to become the Uniting Church in Australia, at Longford there were 23 Ministers. At Union in 1902, a resident minister was appointed to Bracknell and till 1941, when the congregation was transferred to the Westbury Methodist Circuit, 14 ministers served in the town. Ordained ministry continued at Bracknell till 1972 by 10 ministers and later till closing of the Church around year 2000 by a number of lay pastors.
At Longford since becoming the Uniting Church in 1976, there have been 10 serving as ministers, Ordained and Lay. The last full-time minister was Rev. Colleen Grieve who was at Longford between 1996 and 2004.
The progress of the Circuit can be noted from the following extract culled from the paper called the "Evangelist", under the date of June, 1869: "On the Longford Circuit (Wesleyan) there is stationed one minister, assisted by eleven local preachers. Services are held every Lord's Day in commodious Chapels at Longford, Cressy, Butleigh Hill, Maitland, Bishopsbourne, Liffey, Perth and Salem. The congregations in most of these places are large and attentive, and the classes are well attended. In the Sunday Schools there are 268 children instructed by 39 teachers. During the year several promising young people have joined the Church".
The Primitive Methodists, known as "The Prims", ministered particularly to the poor and the working class and were a popular church. The Prims focused on evangelism and frequently ran "Camp Meetings" resulting in much growth in numbers, a benefit to the Circuit for many years. At times these meetings were held in the open with a wagon drawn up to provide a platform for the speaker, and/or the church choir.
The Wesleyans and The Prims, although both Methodist, operated separately but had a good relationship and frequently co-operated. Like the Wesleyans the Prims depended greatly on lay people for preaching, Sunday School teaching and Class Meeting leaders.
Sunday Schools
Sunday schools were an important activity for both Churches. The first Wesleyan Sunday School at Longford was commenced in 1846. Teachers in 1847 included Messrs Tunks and Giles, Mrs Jacob, Misses E. Heazlewood, Pain and Truro.
Among the rules drawn up for the management of the school, included the following:
1. Scholars to attend the School punctually at 9½ in the morning and half-past two in the afternoon with clean hands and faces.
2. General – that no corporal punishment be allowed in the School or during Divine Service under any pretence whatever.
The Sunday School Anniversary was a feature of the School's activities and was held annually, near the end of the year and was an important event on the Church's calendar. From an often erected platform the children would sing songs to a usually large and appreciative audience. It was also the time of presenting prizes, with marks awarded for attendance and competence in learning scripture. Throughout the year text tickets would be handed out and pasted in a "text book" and it was expected the verse would be memorised. Marks were awarded for being able to correctly recite the text and attendance. Prizes were mostly a good quality book and sometimes a Bible for senior scholars. The prizes were much valued, with many descendants still holding books, some presented more than a hundred years ago.
Local Preaching
Local preaching was essential for the operation of the Circuit. Preaching was attended by a large number of individuals in the area, their focus on making God's love known, His empowering and guidance for the betterment of lives.
The preachers travelled long distances at times to attend their appointments, often in the early days on foot or by horseback, but later by bicycle or motor vehicle. The roadways in the early years were mostly rough gravel and difficult for bike riding, with conditions sometimes dusty and muddy. The weather at times was also challenging, encountering wind and rain, and hot and cold temperatures. Distances travelled by bike on Sundays between appointments were sometimes as much as 50 miles.
Some of the local preachers served for long periods, Eric Badcock (over 60 years), A.T. Pearn (55 years), Harry Bean (over 50 years), William Prewer Snr (over 50 years), Basil Archer (50 years) and Hedley Pitt (50 years). There may have been others not yet identified.
Longford Wesleyan
The above is the second Longford Wesleyan Methodist Church, built 1879/80 and opened on 18 July 1880 at a cost of £1,067. The first chapel was opened on 4 July 1837 on land donated by Joseph Heazlewood at a building cost of £1,100. A photo has not been located but a description states it was of brick construction, plain and comfortable, light and pleasant. It was demolished around 1902 to make way for a Sunday School.
Perth Wesleyan Methodist
The Perth Church was funded by Lieut. George Palmer Ball of "Mountford" Longford and together with a caretaker's cottage, was opened in August 1838.
Cressy Wesleyan Methodist
A congregation was established at Cressy in 1839 and first met in the home of Mr. William Brumby. A church was built in 1867 but replaced in the 1960's with the building of a new church on the site. Since closed and sold.
Salem (later known as Pateena) Wesleyan Methodist
A congregation was established in the area in 1840 with the church being built in 1867. The church has long closed and sold.
Liffey Rivulet Wesleyan Methodist
with Church later moved to Elphinstone Road, Cressy
The church was built in 1875 on the Kerkham Liffey Farm property but was moved to Elphinstone Road, Cressy in 1909 and placed on a block of land provided by Mr. Basil Archer five miles from Cressy. It was an active church for some decades but with declining numbers was closed and sold in 1947, with the building moved into the Cressy township.
Bishopsbourne Wesleyan Methodist
No photo has yet been located.
A congregation was meeting periodically by at least 1850 in a rented house. In 1875 a shop premises was purchased, moved 60 yards by ropes and pulleys and renovated. It was located east of the Bush Inn and opened as a church in 1875. It was an active church for many years, until with dwindling numbers, was closed in 1912. The building was moved to John Hall's "Vron" farm property but since pulled down.
Maitland Wesleyan Church
later the Little Hampton Wesleyan Methodist Church
The church was built in 1863 on William Weston's Maitland Estate but moved in 1875 to a corner of the Little Hampton farm. It closed in 1975 and is now a private residence.
Butleigh Hill Wesleyan Methodist
The Butleigh Hill Church was located along the Green Rises Road towards Cressy. Also in the church yard was a caretaker's cottage. The builder was John Gardiner at a cost of £400-0-0 and was opened for worship on 1 January 1860. It continued till Wednesday, 5 November, 1947 when it was destroyed by fire, the result of an arson attack. The cemetery remains.
Longford – Primitive Methodist
The Prims in 1860 purchased land at Longford for a church and a minister's manse. By 1861 the church had been built with a manse soon erected near by and continuing in use till 1902 when Union with the Wesleyans occurred. The church was sold to the Presbyterians who used the building as their church until the establishment of the Uniting Church in 1976. Due to the structure deteriorating, it has since been pulled down. The manse remains, now a private residence.
Bracknell – Primitive Methodist
The foundation stone for the first church was laid by Mrs. W.H. Walton, the minister's wife, on 14 October 1864 and was opened for worship on Christmas Day the same year. The cost of the building was about £120. Much work was done by the laymen to keep down the cost. Timber was cut and carted from the Liffey, from a hill called "Whisky Jim".
The second church was opened for worship on 6 August 1922 built at a cost of £1250 with the building lit by air gas.
Soon after 2000 the congregation merged with the Whitemore congregation and the property sold. The church is now a private residence and the hall removed. The cemetery is to be found at the rear of the Church.
Mountain Vale – Primitive Methodist
The church was built in 1867 on land donated by Mr James Green, a local sawmiller. He wished to provide a church for his employees, some 100 plus.
Mountain Vale was the name of James Green's property located at Liffey.
The church continued to operate until the 1950's, the last planned service was held, late March, 1955. The building was later removed to Mr. Geoff Spencer's property near the junction of the Green Rises Road and Liffey Road, between Bishopsbourne and Bracknell, and is used as a shearing shed.
The cemetery remains but is in a neglected state.
Glenrowan – Homes for the Aged – Perth
In 1969 Mrs Ward of Drummond Street, Perth, gave a block of land of about two acres (including her home) to the Methodist Church for the use in the care of aged persons.
A board of management was formed of members of Longford and Westbury-Bracknell Methodist Circuits. The Board received magnificent support from the people of the district in numerous fund raising functions.
On 2 December 1972 the first block of units was opened by Dr. Foster, Tasmanian Minister of Health. There were three single units and one double in the block.
More blocks followed. Mr. George Shaw M.L.C., then living at Perth was a main driver in delivering the units to completion.
Other Properties
Cemeteries –
Cemeteries were established at Longford, Cressy, Butleigh Hill, Bracknell and Mountain Vale. All are closed to burials, with Butleigh Hill and Bracknell sold.
---
Longford Circuit – Methodist/Uniting Church Ministers
Beginnings
Services were initially conducted as part of the Launceston Wesleyan Circuit from 1834 to 1848
Ministers attending were-
Rev. J A Manton
Rev. W Simpson
Rev. J Warren
Rev. Innes
Rev. Butters
Rev. Eggleston
Rev. H H Gaud
The Longford Circuit
There were two circuits operating in Longford from 1848 until 1902: Wesleyan Methodist & Primitive Methodist. Both operated from their own church buildings until coming together in 1902, then occupying the former Wesleyan church.
Wesleyan Methodist
Date Appointed & Name
1848 Rev. Henry H Gaud
1851 Rev. Jonathan Innes
1853 Rev. Jabez B Waterhouse
1855 Rev. Thomas B Harris
1858 Rev. John Smithies
1861 Rev. W D Lelean
1864 Rev. Thomas Angwin
1867 Rev. James Hutchison
1870 Rev. Samuel Ironside
1873 Rev. Nathaniel Bennett
1876 Rev. James Graham
1878 Rev. Henry J. Lavers
Wesleyan Methodist new church building was established.
1880 Rev. Henry J. Lavers
1881 Rev. J S Greer
1882 Rev. Charles Dubourg
1885 Rev. T C Lawrence
1886 Rev. Robert Thompson
1889 Rev. Thomas Kane
1891 Rev. John Polkinghorne
1894 Rev. Thomas G. White
1895 Rev. John Stafford
1898 Rev. J R Bradbury
1901 Rev. Robert Bayles
Primitive Methodist
Date Appointed & Name
1863 Rev. John Foggan
1864 Rev. W Walton
1868 Rev. J Palfreyman
1870 Rev. Thomas Mell
1874 Rev. J Langham
1876 Rev. G Mather
1877 Rev. W H Youlton
1879 Rev. W M Gould
1882 Rev. Frederick Snider
1885 Rev. T W Cameron
1887 Rev. T C Vian
1888 Rev. W Harris
1890 Rev. J T Piercy
1893 Rev. J T Pithouse
1896 Rev. R Jackson
1900 Rev. M Lawther
The Primitive Church building was sold to the Presbyterian denomination.
In 1902, the union of Wesleyan Methodist and Primitive Methodist Churches formed the Methodist Church of Australasia. It was known as the Longford Bracknell Methodist Circuit.
Methodist Church of Australasia
Ministers at Longford
1902 Rev. Robert Bayles
1904 Rev. W Beckett
1907 Rev. J E Warren
1910 Rev T B Read
1913 Rev. H Trebilco
1916 Rev. H Palmer-Phillips
1920 Rev. L E Egan-Lee
1923 Rev. G T Arthur
1925 Rev. F E Richards
1928 Rev. J F Long
1929 Rev. K A Bennett
1930 Rev. R S Williams
1933 Rev. R G Hunt
1937 Rev. F G Woolhouse
1941 Rev. R Orton
1946 Rev. O W Furness
1950 Rev. R J Chadwick
1954 Rev. O P Marrett
1957 Rev. S J Asplin
1961 Rev. R G James
1967 Rev. N D McDonald
1973 Rev. G G Hall
1976 Pastor P Stanway
Ministers at Bracknell
1902 Rev. C Mason
1905 Rev. F Delbridge
1908 Rev. WH Taylor
1911 Rev. AE Davy
1914 Rev. JJ Webb
1917 Rev RS Morris
1920 Rev. LI Perkins
1923 Rev. JW Strickland
1925 Rev. H Clarnette
1928 Mr. JJ Bowden
1932 Mr. AR Cooper
1934 Mr. W Hawkey
1937 Mr. R Denny
1940 Mr. GG Pullen
1941 Bracknell transferred to Westbury
In 1976, the Methodist church formed a union with the Congregational and some Presbyterian churches and became the Uniting Church in Australia.
Uniting Church in Australia
Ministers at Longford
1977 Pastor P Stanway
1979 Pastor R Barrows
1980 Pastor W Vincent
1981-1985 Rev. K L Dobson
1986-1991 Rev. A Gates
1993-1995 Pastor Cliff Walker
1996-2004 Rev Colleen Grieve (last full-time minister)
2005-2007 Rev. M Raja-Kulendron
2007-2009 Rev. Helen Johnson
2010-2012 Pastor Alan Bawden

Longford Methodist Circuit Lay Preachers
(Wesleyan, Primitive, Methodist, Uniting)
Archer Basil d.1923 Preached for over 50 years
Archer Charles d.1905
Badcock Eric W – noted on the 1935 plan. Preached for over 60 years
Bean Harry – noted on the 1940 plan. Preached for over 50 years
Boon Edwin – Primitive Methodist
Boon Henry – Primitive Methodist
Boon S. R.
Booth Graham
Bowden J
Bowers Shirley
Brumby Mansfield d.1915
Bullock George
Burke
Burton Francis d.1887
Busch (Mrs) Heather
Campbell Alex d.1929
Carins George – OBE
Catmur Ted
Conn Hilton B
Costello R – noted on the 1936 plan
Cross W. – Primitive Methodist
Davies E D – noted on the 1936 plan
Davis D R
Davis L. B.
Dawson Peter – noted on the 1955 plan. Later ordained
Dennis R
Dennis W
Denny R.R. – noted on the 1938 plan
Duthie G W A – Rev. and MHR
Emery John H – Primitive Methodist
French B
French Max
Gould George d. 1877 – noted on the first preaching plan, 1836
Gould George d. 1925
Gould Robert d. 1925
Greig James d.
Hall David d. 1887
Hall Edward d. 1880
Harris W
Heazlewood K
Hingston H MLC
Higgs H
Howard L
Howard P L – noted on the 1936 plan
Huntington John d.1928
Hutchison A N
Jacob Peter d. 1866 – noted on the first preaching plan, 1836
Joliffe A E
Lansdell C – noted on the 1933 plan
Lansdell I
Lee (Sir) Walter – MHA and Tasmanian Premier
Mace W A
Marrett (Mrs) O P – minister's wife
Masters S
Morley Robert d. 1875
Murfet H
Neilson O – noted on the 1932 plan
Neilson S E
Owen
Page Stewart – noted on the 1933 plan
Pearn A T – Primitive Methodist. Preached for 55 years
Pearn Henry – Primitive Methodist
Pitt G H (MLC) d.1932 – preached for over 30 years
Pitt Hedley – preached for over 50 years
Prewer David – Primitive Methodist
Prewer William Snr – Primitive Methodist. Preached over 50 years
Pullen (Mrs) G G – noted on the 1940 plan
Richardson Viv – noted on the 1938 plan
Rogers Bertram S – noted on the 1954 plan
Ross William – Primitive Methodist
Salmon W – noted on the 1935 plan
Shaw George (Hon) MLC OAM
Solomon Edward E d.1917
Solomon Frank
Stanford Wilfred
Stephens Leonard d.1932
Taylor Fred – later ordained
Thompson D – noted on the 1958 plan
Titmus George d. 1886
Tongs John d. 1869
Wadley J W
Walker A C
Webb George – noted on the 1945 plan
Whitchurch D L
Williams John d. 1872
Winwood S W
Wright R S
Wright Samuel d.1894
Written by Ivan Badcock – 5 October 2021