The Smallest Boat to Sail from England to Australia
When the Mystery set sail for Australia in 1854, she was noted as the smallest vessel to attempt the voyage to date, length 36 feet, beam 11ft 6 ins and of 16 tons.
As the day of sailing approached, excitement in Newlyn, a small village near Penzance, Cornwall, became intense, "relatives of the crew were troubled, and many hearts were well-nigh breaking". Many older, experienced fishermen questioned the decision to take such a daring enterprise in a craft of not more than 16 tons.
On November 18, 1854, at nine a.m., the Mystery cast off from her moorings outside the tiny harbour. The entire fishing population and the local people lined the shores to wish them "God speed and safe journey".
Of the seven travelling, most were connected via the Kelynack family, they being Captain Richard Nicholls, married to Victoria Kelynack; Job Kelynack her brother; William Badcock, husband of Harriet Kelynack; Richard Badcock, a brother to William and married to Phillis Kelynack; Philip Curnow Matthews, a relative of the Kelynacks; Charles Boase and Lewis Lewis. Lewis' parents Charles Kelynack and Phillis (Curnow) Matthews and Lewis joined for the adventure; the others, it is said, for the lure of gold and possible fortune in a new country. Two relatives from Newlyn were already in Australia.
Scale model of Mystery on display at the Royal Institute of Cornwall at Truro. It was made by Joseph Carter, the husband of William Badcock's daughter Harriet.
One night in 1854 at the Star Inn of Newlyn, a meeting of fishermen came together over drinks with a discussion ensuing as to how they might reach Australia. With incomes from fishing being meagre and with the news of a gold rush in Victoria offering alluring prospects, the conversation moved to ways of reaching the gold fields. They owned a boat in shares and initially it was suggested this could be sold to enable them to purchase tickets to emigrate.
Then the idea was presented by Captain Nicholls that instead of the sale of the boat, they would sail it to Australia.
Plans then moved to make the Mystery safe and suitable for such a voyage. A generous donation of £200 from the publican of the Star Inn enabled the Mystery to be modified to tackle the high seas; decking fore and aft was put in place and a sheath of zinc placed on her hull. A raft was built and fastened to her deck, a coke-fired stove for cooking installed, navigation equipment was purchased, a compass, sexton and barometer. Stores of food were placed aboard. Also, freshwater was carried as ballast.
An informative record of the voyage is to hand, made available by the ship's log of the journey kept by Captain Nicholls. It includes notes on weather conditions experienced, including when becalmed in the doldrums, hurricane-sized storms encountered, and contacts with several ships on the way south.
Cape of Good Hope. On the night of 17 January, just 60 days after leaving Newlyn, they hove to in Simon's Bay on the Cape of Good Hope, the first landfall of their voyage. The following morning, a crowd of locals met them with great excitement, including the Commander of the Royal Navy.
The following excerpt from the Sydney Gazette and Sydney General Trade List of 26 January indicates how surprising her arrival at the Cape was.
On Thursday last there arrived in Simon's Bay, the Mystery, a small fishing smack of 16 tons, from England, bound to Melbourne. The little gallant adventurer has made an excellent passage of 60 days. On her arrival at Simon's Bay, she was considered to be a Table Bay cutter, and on that account was not boarded by the Harbour Master. He did not know the real character of the diminutive craft, until he observed the captain and his crew quietly beaching their bark and hauling her with ease on the shore.
Equally, a surprise was in store for the "little gallant adventurer" crew. Once she was restocked with supplies and her zinc coating was checked, it was requested that the Mystery round the peninsula to be granted a singular honour: she was to take on board Her Majesty's mail to Melbourne.
To the sound of applause from the shores and from ships in Table Bay on 24 January, "the smallest vessel ever to have made the voyage from England" was back under sail.
The Roaring Forties of the Indian Ocean. Ahead they would face their harshest challenge yet. On January 28, Nicholls was able to record his confidence in the Mystery. "Strong gales with a high sea running. Our gallant little vessel rides it surprisingly well". On February 18, a hurricane was encountered, accompanied with mountainous seas. The boat was brought head to wind and "rode to raft", a method adopted for safety during extreme high seas that involved turning the boat into the wind while anchored to the raft.
It worked, with Nicholls reporting the lugger "riding beautifully and not shipping any water whatsoever". The crew had to resort to this method on six occasions over the next three weeks.
Finally, on March 10, they sighted the Australian mainland between Cape Northumberland and Cape Bridgewater on Victoria's west coast. Four days later, on 14 March 1855, the Mystery cruised through the heads of Port Phillip Bay.
Nicholls' log entry reads; 10 am – pilot came aboard off Port Phillip and congratulated us on our safe arrival after such daring adventures. After a little cruising among the shipping, entered Port Philip Heads with about 8 pilots on board.
6.55pm – hove to – got my Certificate of Clearance from the Doctor and proceeded to Hobsons Bay thus completing the voyage". It had taken them 116 days sailing from Newlyn, Cornwall to Melbourne.
The extraordinary fete gripped people's attention and admiration. In Cornwall, it is much remembered and is considered the greatest of all the voyages leaving its shores. To commemorate the event, a plaque can be found placed on the wall of the Mission to Deep Sea Fishermen at Newlyn.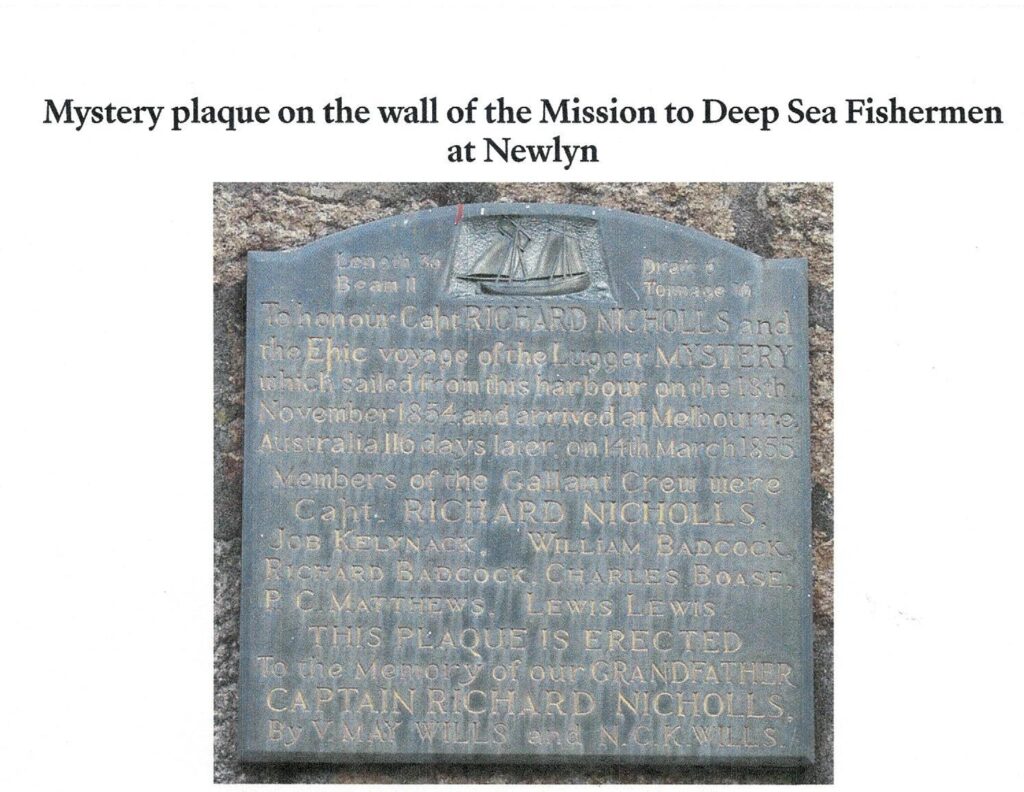 After Arrival. A great and well-deserved welcome awaited them, with Captain Price, the son of Sir Rose Price of Trengwaiton, near Newlyn, a noted Cornish squire, offering hospitality.
Sightseers travelled miles to see the small fishing boat that had defied distance (11,800 nautical miles) and storms – and the men who had endured so many days in such confined space. So limited was space that exercise only available was six paces along the deck.
The Mystery was put on show for a small charge, which was one way of making money for the crew.
They also took up fishing, but the project was not successful, and the boat and gear was sold to a Williamstown man for £150.
Mystery would remain in Australia where she was used as a pilot cutter. On 26 March 1869, she was wrecked in Keppel Bay, Rockhampton.
The Crew of the Mystery after arrival
(1) Richard Nicholls (1818-1868). Captain Nicholls returned to Cornwall by the end of the year, afterwards working with various shipping companies before he was killed by a horse-drawn cab in London in 1868.
(2) William Daniel Badcock (1822-1906). In Melbourne, he took a position as a warder boatman taking men from the convict hulks. After returning to Newlyn, he returned to fishing. He died on 24 March 1906 aged 85. He was the last surviving crew member of the Mystery.
(3) Richard Badcock (1818-1874). While in Melbourne, like his brother William, worked as a warder boatman taking men from the convict hulks. He returned to Cornwall at the same time as his brother. He died at Newlyn in 1874.
(4) Job Kelynack (1822-1903). Job was the brother-in-law of Captain Richard Nicholls. He returned to England and died at Cardiff in 1903.
(5) Philip Curnow Matthews (1831-1896). Philip mostly lived in Melbourne, working as a surveyor. His wife died while their children were still young, and he returned to Cornwall to seek help from relatives. A niece came back to Australia with him. He died in Melbourne in 1896.
(6) Charles Boase (1826-1874). When he sailed in Mystery, he was unmarried but returned to Cornwall and married Mary Yeoman at Paul in 1861. Charles died at Newlyn in 1874.
(7) Lewis Lewis (1816-1866). Sometimes known as Lewis Lewis Kelynack. His father is recorded as Charles Kelynack, Mother Phillis Curnow and brother of Job Kelynack recorded above. He worked as a shepherd, died at the Castlemaine Hospital in 1866 and was buried in an unmarked grave at Campbell's Creek, Bendigo, Victoria, Australia.
Re-enactment
In 2008 a plan was decided upon to re-enact the 1854 voyage from Newlyn to Melbourne in a replica of the Mystery. Boatbuilder Chris Rees was commissioned to build a boat as near as possible to that of the original Mystery, with the only variation being the addition of modern safety requirements.
The boat was named "Spirit of Mystery".
It sailed from Newlyn on 20 October 2008 with four crew, Andy Goss and his 14-year-old son, Elliott Goss, Pete Goss, Andy's brother and Mark Maidment. They arrived in Cape Town on 25 December 2008 and Melbourne on 9 March 2009, 121 days later.
Two months later, they sailed the Tamar River to Launceston (Tasmania) coming here in recognition that the original Mystery was built near the Tamar River at Cornwall, England, and often sailed its waters.
It was tied up in Launceston at Home Point on 7 May 2009 and was opened for inspection. See article, Launceston Examiner 9 May 2009.
Spirit of Mystery at Launceston, Tasmania – May 2009
Written by Ivan Badcock on 19 January 2023