Mary Ann (nee Walker) (1849-1910) and Isaac Simeon Richardson (1843-1919)
The Isaac Richardson family reached Hagley in 1909 when Isaac purchased the "Cripplegate" farm property which he soon renamed "Lenna". The families association with the Hagley Methodist church commenced from that year with several generations becoming active members.
By the time of arrival Isaac had turned 66 and Mary Ann 60. Coming with them to Hagley, were their three daughters, Sarah, Evelyn and Ruby and four of their sons, Frank, Henry, Arthur and Victor. Three sons, Alfred, Clarence and Norman had already married and moved away. Another son Albert was born in 1880 and died the same year.
Mary Ann, the daughter of Michael and Sarah Walker, had been born at Hagley in 1849 but moved in 1854 with her family when they went to live at Exton.
Prior to coming to Hagley the Isaac Richardson family had lived at Exton where all the family were active in the life of the Methodist Church. Isaac's obituary in the Tasmanian Methodist gives a few details of his church life, "……….Mr. Richardson was brought up in the Church of England, but in his youth he left for the Methodist Church, of which he remained a most faithful and zealous member till the day of his death. He filled every office in the Church open to layman, except that of local preacher, and he did take a service occasionally, though he never went on the plan. He was several times circuit steward. He was about forty years on the staff of the Sunday School at Exton, and succeeded his brother-in-law, Mr. Thos. Walker, as superintendent of that school. He was also a trustee of the Exton Church.
Eleven years before his death he removed to Hagley. Advancing years necessitated his taking a less active part in Church work, but he continued a most regular attendant, and a joyous giver. The brightness of his Christian experience was an inspiration to all who knew him……."
All the children of Isaac and Mary Ann were active members of the Church, with three sons becoming local preachers, Alfred, Henry and Victor, with Henry and Victor as part of the Hagley congregation.
Beverley Richardson in her Richardson family history book, "A Family Remembers" expands on Isaac Richardson's families church activities. " Alfred was a lay preacher, Clarence a Sunday school superintendent for a number of years. Frank held most offices in Methodist churches at Exton, Hagley, Butleigh Hill and at Selbourne where he also helped build the church. Similarly Henry held most positions in the Methodist church at Hagley, including Sunday school superintendent, trustee, church steward and was a tenor in the choir. Arthur was involved with the church at Bracknell and Victor was a lay preacher and trustee of the Hagley church".
Their eldest daughter Sarah Matilda Richardson also became noted for her faithful church service which ended suddenly at "Lenna" on 6 May 1915 at the age of 39 years. In her Memorium in the Tasmanian Methodist it was noted "she decided for Christ at the age of 14 ……… and for twenty-five years thereafter she gave herself to tireless loving service for her Master in the face of heavy physical handicap, for an accident at the age of 18 months had left its mark upon her, and she was never without suffering till the day of her death. For 19 years she was a teacher in the Exton Sunday School." Sarah is also known to have been a severe asthmatic. She is buried in the Hagley Methodist cemetery.
Mary Ann died suddenly in 1910 following a heart attack. Due to the Hagley Methodist cemetery being flooded, burial took place in the Hagley St. Mary's Church of England cemetery, where also Isaac was later in 1919 buried.
A number of later descendants also became local preachers in the Methodist Church, Ray and Mona Richardson (of the Hagley Congregation), Hedley Richardson, Viv. Richardson, Eric, Ivan and Keith Badcock.
Henry Samuel Richardson (1881-1942) Victor Richardson (1887-1958)
Richardson Family Photo at Lenna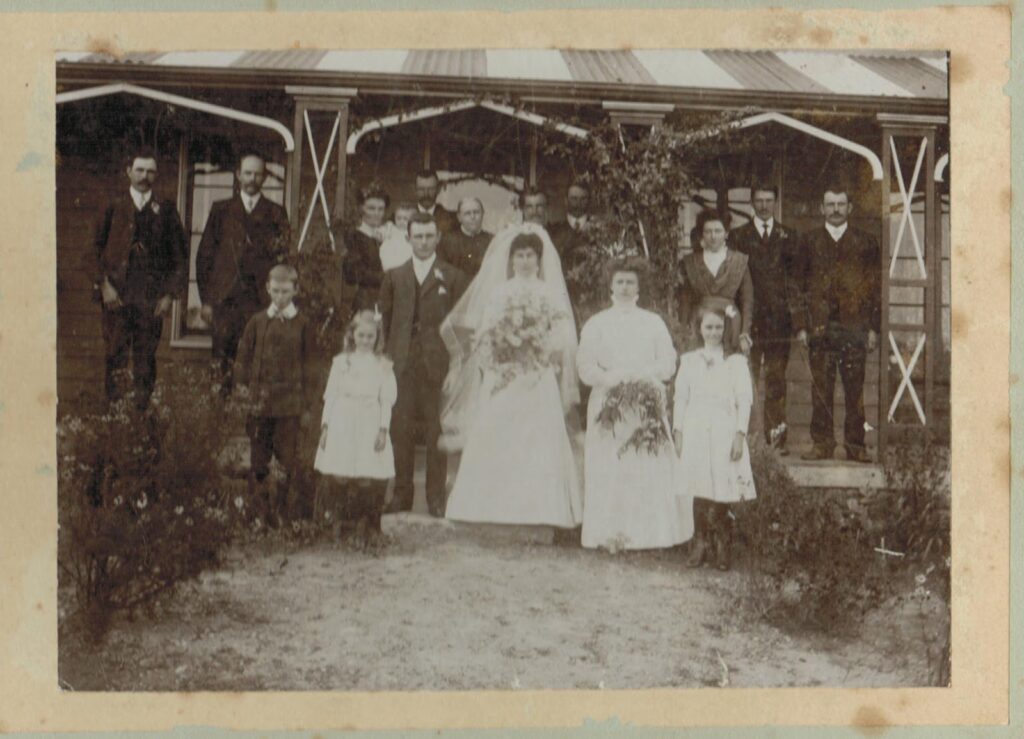 Back row: Arthur (brother), Alfred (brother), Louisa (Alfred's wife), Arnold (Alfred and Louisa's son), Clarence(brother), Mary Ann (mother), Isaac Simeon (father), Henry (brother), Sarah (sister), Victor (brother), Frank (brother).
Front row: Harold (Alfred and Louisa's son), Ella (Alfred and Louisa's daughter), Melvyn Badcock, Evelyn, Ruby (sister), Leila (Alfred and Louisa's daughter) – absent, Norman (brother).
Compiled by Ivan Badcock – January 2016