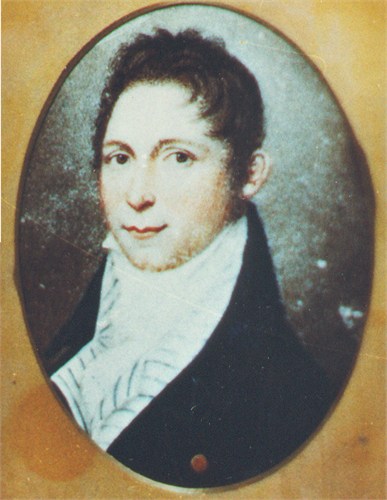 When looking through the original land grants at Bishopsbourne, Tasmania the name of Thomas Collicott appeared, and not knowing anything about him, decided to make an investigation of him and his family. The following pages reveal some information discovered on his association with Bishopsbourne, his life's activities and that of his immediate family.
Physical Features – Thomas Collicott
Height – 5 feet and five and a half inches
Complexion – Pale
Hair – Brown
Eyes – Hazel
Land Grant – 500 Acres – Bishopsbourne
In 1821/22 when Thomas Collicott was 54 years of age, he received an original Land Grant of 500 acres in the Bishopsbourne, Tasmania area and was amongst the first Grants allocated in the locality. While living in Sydney, Thomas had written to Governor Lachlan Macquarie on 19 December 1820 and again 10 days later requesting a grant of land in Van Diemen's Land. A reply was received from Governor Macquarie under date 22 February 1821 approving the request with reply as follows-
Receipt of Memorial of 19th December 1820
Mr. Thomas Collicott will receive a grant of Five Hundred acres of land at Port Dalrymple and himself and family together with three government men as labourers, will be victualled from the King's store for six months from the date of his taking possession of his farm – L.M.
This grant was made official on 30th June 1823 and signed off by the new Governor General, Sir Thomas Brisbane, and was recorded as being of 500 acres on the Pennyroyal Creek which is now called the Liffey River near Carrick. Also to be provided were five convicts plus their food and clothing for five years, at a quit-rent of 10 shillings after 5 years. Under the terms of the land grant Collicott was not permitted to sell the land for five years, i.e. until 1828.
It is almost certain that Thomas had taken control of the land at an earlier date as the family is noted as sailing from Sydney for Port Dalrymple on 5 May 1821 aboard the brig Elizabeth Henrietta and arriving at Launceston on 25 May.
However things did not go entirely to plan as goods being forwarded for the family via the schooner "Mary" were lost when it was wrecked at Twofold Bay on 26 May 1821. The value of these goods was estimated at £70.
Partly as a result of this loss we find Thomas writing to Governor Brisbane detailing his position and requesting assistance. It would appear he has already taken possession of the grant although it is unclear if the family had taken up residence at "Bristol Park". This letter reads-

"His Excellency, Sir Thomas Brisbane. KC, Governor and Commander in Chief for New South Wales and its Dependencies.

The Memorial of Thomas Collicott of Bristol Park near Launceston, Van Diemen's Land, most respectfully sheweth that Your Excellency's memorialist is about to clear and cultivate the above named farm and immediately to reside thereon.

That the property of Memorialist has been very seriously diminished within the last four months by, loss at sea in the schooner Mary, and robberies on shore since the arrival of the Memorialist in Van Diemen's Land.

That in consequence of the means of your Memorialist of stocking his farm being more limited by these misfortunes, Memorialist respectively hopes that your Excellency will be pleased to grant him the indulgence of having four cows from the Government farm for such time and with such restrictions as to your Excellency's command.

And Memorialist as is duty bound will ever pray
Your Most Obedient
Humble Servant
Thomas Collicott "Bristol Park" Feb. 18th 1823".

Note – the reference to the loss of the schooner Mary "within the last four months" appears inconsistent as it occurred 21 months earlier.
The 1824 survey map locates the property half way between what is now Bishopsbourne and Carrick with the land to the north, east and south being shown as unallocated land. To the west the land fronted onto the river then known as Pennyroyal Creek but now as the Liffey River.
An indication of the region and quality of the land is to be had from the Land Commissioners report when they passed through the area in late February 1828. They recorded as follows –
"Monday 25 February 1828. Ride over the Crown Land at the rear of Mr. Dumaresq's to Collicotts's bad farm, between that and Mr. Walker's there is a large front on the Creek of unlocated land, fair in quality in front, the back land forest and swampy.
Tuesday 26 February 1828. View the Government Land between Collicott and Reiby; it is bad forest, a few sheep hills occasionally. Mr Compton runs a flock of sheep of one thousand, here, having sold his grant."
Records show that Thomas Collicott farmed the area but not living long on the property, if at all, as by 27 August 1824 the family is recorded as being at the farm property, "Kensington" on the Humphrey's River, near O'Brien's bridge and which is now known as Glenorchy a suburb of Hobart. There on 10 October 1825 he was appointed the pound keeper.

While living there, the Hobart Town Gazette of 27 August 1824 records the family being robbed – "On Sunday night, five or six men, armed and their faces blackened, burglariously entered the farm house occupied by Mr. T. Collicott, between the four and five mile stone, near the high road, and robbed it of some property, with which they got clear off."
Therefore it is probable that at Bishopsbourne Thomas employed a farm manager besides the assigned convict labour.
There is a record of a Thomas Manning operating a pound on Thomas' Bishopsbourne property until it was taken over by a new occupier, Richard Kerkham around 1832, therefore Manning may have been the farm manager. The Hobart Town Courier on Friday, 17 January 1834 records "Mr. Richard Kirkham(sic) is appointed to keep a pound at Norfolk Plains, on the Liffey, about 3 miles from Carrick Township, in the room of that recently kept by Mr. Thomas Manning." This pound was maintained by Mr. Kerkham until August 1841 when it was discontinued.
A sale of cattle by Mr. Collicott is recorded by the Sydney Gazette and New South Wales Advertiser on 1 May 1830 as follows – "A small lot of cattle, that was bought last week from the excellent pasture on the Port Dalrymple side, was sold the other day by Mr. Collicott, at improving prices. Steers fetched from 12 to 16 pounds a pair, and milch cows were readily bought at £5".
Thomas Collicott sold his farm, "Bristol Park", for £250 on 10 November 1832 to Thomas Reibey, his son-in-law, who was a wealthy merchant and who owned thousands of acres in the area. Thomas Reibey renamed the property "Liffey Farm" and in 1838 transferred the property to his sister-in-law, Jane Kerkham as a gift, Jane being a sister to his wife Richarda.
On 16 August 1832 the Sydney Gazette under transfer of assigned convicts between 1st and 30th April inclusive, records No. 1596 John Macuskea, "Lady Faversham", ploughs, milks etc. to Thomas Collicott, Sydney.
The Family in England
Thomas Collicott was transported to Australia as a convict arriving per "Earl Spencer" on 14 October 1813 and appears on the list of convicts disembarked and forwarded to William Cox at Windsor for distribution. (Reel 6002; 4/3491 p. 560). He had been transported for failing to affix duty stamps to bottles of medicines. His arrest had taken place at Pill, near Bristol and was tried at the Old Bailey on 15 January 1812, found guilty and sentenced to be hanged.
Forgery and Arrest
An account of his arrest appeared in "The Times" London under "Police Bow St"
19 December 1811-

"Forged Stamps – It has been for some time suspected, by the Commissioners of the Stamp-office, that Forged stamps were in circulation, particularly on patent and quack medicines.

With a view to discovering the truth of this suspicion, Mr France, the solicitor to the Stamp-office, called at a medicine shop near the Royal Exchange, and purchased a bottle of Dr. Jebb's Pills.

On examining the stamp on the box, he discovered it to be a forgery. He enquired of the woman where she got the stamp? She replied, she had it with a number of other boxes of the same kind of pills, of Mr. Collicott who also kept a medicine shop.

Mr. France being satisfied that the woman gave a fair account as to how she became possessed of the counterfeit stamps, he obtained a warrant to search Mr. Collicott's house and to apprehend him.

Vickery went to execute the warrant. He was informed by Mrs. Collicott, that her husband was out of town. He told her he had a warrant to search for forged stamps. A servant girl accompanied him into a back room and into other parts, to search for them.

It then became rather dark, he requested to have a candle, and the girl went down stairs to get him one; she was absent about five minutes, and returned without a candle, but asked her mistress whether she should get a light.

This being an unexpected circumstance, together with her not having an apron on that she had on when she went for the candle, Mrs C. having given her sanction to get a light, Vickery followed her, suspecting there was something wrong with their conduct.

The officer went into a back shop, and descended by a ladder from over against the wall of that shop, but could not find anything there of a suspicious nature.

He then went down stairs, and in a closet in the front area, where coals were kept, he found a large quantity of forged stamps tied up in the apron which the servant girl had on her when he first entered the house; in consequence of this discovery, he had no doubt but when she first went down stairs, under pretence of getting a lighted candle, that she concealed the forged stamps in the coal-cellar, and in consequence took her into custody. She was, however, not detained long, a respectable gentleman undertaking for her appearance at a future day.

It being ascertained that Mr. C. was travelling on business about Bath and Bristol, Vickery and Lavender were dispatched to apprehend him, and they found him at Pill, near Bristol, at a public house, and on searching his luggage, they found two bottles of lotion, with forged stamps of the same description as those found in the house; he offered the officers a fee to destroy them, which they refused. The officers brought him to town, and he has undergone several examinations, and a final one on Tuesday evening.

Maria King has been admitted as a witness, from whose evidence it appears, that the same description of stamps as found by the officers were on the medicines sold in the shop; she knew they were bad, her master having told her so, and directed her to cut out the middle part of the stamps when she put them on the medicines, using the sides only of the forged stamps, taking out the centre of them the words – "Jones, Bristol", and putting the seal in the place, which he either did himself, or she by his direction.

She knew that sealed stamps of that description were sent out with different medicines to Wood and Cunningham, printers, at Bath, as she assisted in doing them up. The prisoner was committed for trial".
Family
Thomas was born c1768 at Weston, near Bath, Somerset, England and had married Charlotte (nee Ross) on 12 January 1793 in England. Thomas was the youngest of five children born to Hill Collicott (c1730-1790) and Mary (nee Sheldon)(1732-1780). His siblings were-
Mary Cure Collicott 1761 – 1842
Elizabeth Ann Collicott 1762 – 1826
Richard Sheldon Collicott 1764 – 1829
Hill Jnr. Collicott 1765 – 1834
Hill, father of Thomas, had been born at Gloucester, England and had married Mary Sheldon on 6 April 1860 at St. Stephens', Bristol, Gloucestershire, with Mary being the daughter of Rev. Robert Sheldon.
Hill Collicott's occupation was that of a gunsmith.
Family stories relate that Thomas had worked as a surgeon's mate in the Royal Navy, and was present at the battle of Cape St. Vincent in March 1797, serving aboard the "Barfleur". Thomas was working alongside the ships' surgeon, Dr. Richard Allen. The two became firm friends and business associates, and while Richard worked as a physician, Thomas operated his associated pharmacy business. This business operated from premises at 76 Oxford Street, London owned by Dr. Richard Allen.
Richard Allen died in 1806 leaving a widow Mary and five children between 14 and 6, and little to support them. They had married on 27 July 1791 in London.
Richard also had a previous marriage and family. His first wife, Mary Ann Perry had died in 1788 leaving four children-
Joseph Allen, born 1778 – died 1858
Mary Anne Perry Allen, born 1782 – died 1870
Elizabeth Allen, born 1784
Hannah Allen, born 1786, died 1861 – married Capt. Thomas Brooke
All these children were living at the time of their Father's death and had reached adulthood.
Thomas Collicott's wife, Charlotte (nee Ross) born 1764, had died a few years earlier on 21 September 1801, the same day as the birth of their daughter Eliza. Five children for Thomas and Charlotte have been identified.
They were-
Charlotte Collicott – born 11 Sept 1795 – died
Mary Sheldon Collicott – born 1 Sept 1796 – died 5 Dec 1885
John Thomas Collicott – born 23 Sept 1798 – died 3 Jul 1840
George Collicott – born 11 Mar 1800 – died Dec 1807
Eliza Collicott – born 21 Sept 1801 – died 26 Jul 1860
Richard and Mary (nee Lickfold) Allen's children were-
Jane Allen – born 14 Dec 1792 – died 11 Dec 1872
Susanah Allen – born 30 Jul 1795 – died 1827
Charlotte Allen – born 1796 – died as an infant
Richarda Allen – born 2 Sept 1798 – died 18 May 1888
Richard Allen – born 20 Oct 1799 – died 16 Jul 1844
George Allen – born 23 Nov 1800 – died 3 Nov 1877
John Allen – born 30 Sep 1803 – died 25 Aug 1805
Thomas Collicott and Mary Allen (nee Lickfold) married at St. Mary's church, St. Marybone, London on 15 December 1809, thus bringing the two families together.
Thomas and Mary had one child-
Francis Bacon Collicott – born 1811 – died 1814
At Sydney
Following Thomas' imprisonment and transportation the family were left in poor financial circumstances and had to rely on the support of friends. Included amongst these was Sir Robert Wigram who wrote to the Home Office seeking approval for Mary and seven of their children to emigrate to Australia and offering to pay their passage. He also continued his support after arrival in Australia which will be referred to later.
The friendship between the Wigram and Allen families had been a long standing one.
Dr. Joseph Allen (Richard's great uncle) had been apprenticed to a Dr. Wigram in Ireland. In 1762 Robert Wigram, a grandson of Dr. Wigram in Ireland, arrived in London, then 19 years of age, and had in his pocket 200 pounds and a letter of introduction from his mother to Dr. Joseph Allen.
Robert Wigram became a close friend of Richard Allen and eventually abandoned medicine and became a general merchant, making an absolute fortune. He lived at Walthamstow House, Essex.
Thomas' wife Mary, with three of her children, Richarda 18yrs, Richard 15yrs and George Allen 14 yrs and three of Thomas' children, Mary Sheldon 19yrs, John Thomas 17 yrs, and Eliza Collicott 14 yrs, sailed from England aboard the 378 ton "Mary Anne" departing England on 26 July 1815 and reaching Sydney on 30 January 1816.
Mary prior to departure had sought letters of introduction from influential friends addressed to Governor Lachlan Macquarie, who on receipt provided good assistance. With her late husband being a physician to the Prince Regent, these letters probably carried considerable influence.
Thomas spent a year awaiting transportation which must have been a dreadful experience for an educated man.
Eventually Thomas with about 200 male convicts and a detachment of the 73rd Regiment, set sail from Deptford on 2 June 1813 on the "Earl Spencer", and after 129 days at sea arrived at Port Jackson, Sydney, on 9 October 1813.
Thomas was disembarked on 14 October 1813 and immediately forwarded to William Cox at Windsor for "distribution" which meant assignment to various positions depending on one's occupation. With Collicott being an educated literate man, he was treated well in New South Wales, not confined in a prison but employed as a clerk.
Thomas received his ticket-of-leave less than a year later, on 8 August 1814. (No. 715 COD 18). His absolute pardon was given on 1 January 1817. (No. 395, COD 19).
Mary and children reached Sydney on 30 January 1816 to join her husband and the family quickly became active in re-establishing their lives. New friendships were soon made, with the Reibey family being amongst these, regularly visiting each other.
Early newspapers and other records reveal some of their activities in and around Sydney.
1816 – 13 April. An advertisement appeared in the Sydney Gazette advising the setting up of an educational facility as follows – "ACADEMY – Miss Collicott and Miss Allen, beg leave to inform the Ladies of the Colony, that they intend opening on Monday 22d instant, at 19 Pitt street, a SEMINARY for Young Ladies; where those who may be pleased to entrust their Children to their Care, may depend upon every exertion in their power being used to instruct them in the following Branches of Education; English, French, Geography, Writing and Accounts, and Needle-work.
By March of 1816 Thomas had opened a retail outlet at No. 19 Pitt Street, Sydney. The following advertisement appeared in the Sydney Gazette on 9 March 1816.
"ON SALE at T. Collicott's, the following ARTICLES, viz. best London made knives and forks, copper tea-kettles, copper boiler, best metal tea pots, tin and plated candlesticks, a set of pewter dishes, plates and water plates, elegant mirror, modern stove, cambric, muslin, calicoes, India long cloths, cottons, tapes, needles, pins, combs, salt of mons, teas, sugar, tobacco, and soap, with a variety of other articles."
Similar but more extensive list of items for sale continued to be advertised in the Sydney Gazette until December of 1816.
1816 – October 23. Mary made an application for mitigation of husband, Thomas' sentence, and for the granting of a town allotment. (Reel 6005; 4/3495 p. 221). Mary was successful on both accounts – Thomas had his sentence cut by two years and a residential block received at George Street, Sydney. Their son George Allen, in his diary on 4 March 1819 recorded concerning the building of a house on the block "…… at the house belonging to father situate in George Street, the upper part appears to be nearly finished."
It would appear that by early 1817 Thomas had decided to move into the hotel business as indicated by the following records.
1817 – February 25. "On a list of licences granted for the sale of victuals, beer, ale, cyder and spiritous liquors – Collicott, Thomas"
1817 – 19 April. Sydney Gazette and NSW Advertiser.
GOVERNMENT PUBLIC NOTICE, SECRETARY"S OFFICE, SYDNEY
For the information of Travellers and the Public at Large, and for the particular Guidance of the Officers of the Police Establishment, His EXCELLENCY the GOVERNOR has been pleased to order and direct that the following List of Publicans, who are duly licensed for Keeping of Public Houses, and Vending of Wines, Spirits, and Beer, and of those Persons licensed to brew Beer within the several Towns and Districts of Sydney, Parramatta, Windsor, and Castlereagh, for the present Year, shall be published in the Sydney Gazette; viz.
AT SYDNEY.
No. Name Sign
1. John Tindall Green Man
2. Thomas Collicott Rose
1818 – 4 July. The Sydney Gazette.
In the list of Spirit and Beer Licenses which had been issued and were to remain current until 21 February 1819 – included among them was Thomas Collicott, sign of the "Rose", Pitt-street.
Land Grant of 200 acres to John Thomas Collicott at the Five Islands or Lake Illawarra which he named "Campbell Park". This property was leased out in January 1819 on his departure for Hobart and later sold.
1818 – Nov. 30. Thomas and Mary are appointed Master and Matron respectively of the Female Orphan School at Parramatta at a salary of £120 per year, with accommodation, provisions and servants supplied. (Reel 6040; 4/403 p.p. 21, 23-24)
1818 – Dec 22. John Thomas Collicott proceeding to Van Diemen's Land by one of the vessels now in the Harbour, requests all claims against him may be immediately presented. (Sydney Gazette)
1818 – Dec. 26. Application for transport assistance for family and furniture to the Female Orphan School (Reel 6049; 4/1745 p.129)
1820 – Aug.10. Thomas Collicott countersigned printed copy of Proclamation of the accession of King George 1V.
1820 – Mary Collicott to be paid a gratuity of £30 in recognition of improved conditions of the Female Orphan Institution. (Reel 6040; 4/403 p.50)
1821 – Jan. 3. Both Thomas and Mary resign their positions at the Female Orphan Institution at Parramatta. (Reel 6017; 4/5783 p.85)
1821 – 3 Feb. (Sydney Gazette)
Mr., Mrs. and Miss Eliza Collicott together with a female servant, proceeding from hence to Port Dalrymple by an early opportunity, all claims are requested to be presented accordingly.
1821 – Mar. 21. Mary Collicott has Charlotte Cornwall apprenticed to her, and to take her to Port Dalrymple.
1821 – Apr. 21. (Sydney Gazette)
Mr. and Mrs. Collicott and Family, proceeding to Port Dalrymple in the brig Elizabeth Henrietta, request claims to be presented.
1822 – 15 Feb. (Sydney Gazette)
Ship News – Arrived from Port Dalrymple, also with sundries, the brig Haweis, Capt. Jameson. – Passenger, Mr. Collicott, Port Dalrymple Settler.
1822 – 12 Apr. (Sydney Gazette)
To be Sold by Private Contract, All that Two-Story Dwelling House, situate in George-street, Sydney, at present in the Occupation of Mr. John Rickards, the property of Mr. Thomas Collicott. For particulars enquire of Mr. George Allen, Sydney.
1828 – 11 Aug. (Sydney Gazette)
PRO BONO PUBLICO
The undersigned takes this opportunity of announcing to his Friends and the Public, that he has commenced BREWING at his House, No. 31 Upper Castlereagh St., where Families and Publicans may be supplied with excellent Beer and Baker's yeast.
Thomas Collicott
TO BE LET
That spacious and commodious Cottage, occupied by Mr. Dawes, in Reibey's Cottages, Castlereagh St.
Apply to Mr. Collicott, Constitution Brewery.
1832 – 8 Dec. (The Sydney Monitor)
Donations to the Sydney Asylum – included in list of supporters
1831 Dec 29, Mr. Collicott, 30 gallons of beer.
1831 Dec 29, Mr. G. Allen, 40lbs of plums
1834 – 11 Jan. (Sydney Gazette)
Deaths – At his residence, Castlereagh-street, Sydney, yesterday 10th instant, Mr. Thomas Collicott, in the 66th year of his age.
1834 – 7 Feb. (Hobart Town Courier)
Among the recent deaths at Sydney …………….. Mr. Thomas Collicott, father of our much respected principal postmaster of this place, in his 66th. Year
1834 – 13 Jan Thomas is buried at St. James' cemetery, Sydney but at a later date his remains were transferred to the Allen family vault at Rockwood cemetery.
1837 – 18 May (Sydney Gazette)
Donations for the establishment of Wesleyan Sunday Schools. The list includes-
George Allen Esq. £5—0—0
Mrs. Mary Collicott £1—0—0
Some Further Family Information
Mary Sheldon Collicott & Anthony Smith Denne
Mary Sheldon Collicott Anthony Smith Denne Married – 16 Sep 1823
Born 1796 Born 8 Sep 1791 St. John's Church of
London Chilham, Kent, England England, Launceston
Died 5 Dec 1885 Died 14 Jan 1873
Bruny Island, Tasmania Bruny Island, Tasmania
Children
Charlotte Louisa Denne 10 Dec 1823 d. 24 Apr 1844
John Thomas Denne 5 Jul. 1826 d. 4 May 1906
Edward Collicott Denne 6 Jul. 1829 d. 27 Jan 1915
Mary Jane Denne 6 Sep. 1832 d. 6 Nov 1843
Mary Sheldon Collicott arrived at Port Dalrymple, Launceston from Sydney with her parents at the end of May 1821 with her father Thomas scheduled to take up his grant of 500 acres located midway between Bishopsbourne and Carrick which he had named "Bristol Park". Another daughter, Richarda who had married Thomas Reibey in Sydney in 1817, had moved to a nearby property known as "Entally" at Hadspen in 1819. Entally and Bristol Park were around eight miles apart.
Anthony Smith Denne had arrived in Van Diemen's Land four months earlier from England. He had travelled aboard the "Midas" with 27 other passengers reaching Hobart on 22 April 1821. He was 19 years of age.
On arrival Denne was granted 100 acres of land in the "Western Plains" district near Carrick and Hadspen thus providing an opportunity for Anthony and Mary to meet.
Anthony Denne and Mary Collicott were married at St. John's Church of England, Launceston on 16 September 1823 by the Rev. Youl.
From official correspondence and family stories some details of Anthony Smith Denne have been located. He was the youngest of 13 children born to Edward Denne (1748-1806) and Jane (nee Plummer), (1749-1802). The family lived at Chilham, Kent, England.
It is said that as a young boy he was educated at King's School and was a choir boy at Canterbury Cathedral which was only six miles from Chilham.
He served as an officer in the 1st. Kent Militia for four years.
At the time of making application to proceed to Van Diemen's Land and to obtain a land grant, he was requested to complete an assets schedule. He listed the following which he stated he intended to sell – "Clothing £30, boots and shoes £12-10-0,
linen £10, a Bruskett time piece £15, guns, pistols etc. £24-10-0, 7 sheep in lamb £7, and cash £10. Total £109.
Family stories relate that when he emigrated, he brought with him a small harpsichord and a music box, the latter still held by a descendant. It is therefore apparent that he had a love for music.
An indication of Anthony Denne's good character is revealed in a letter that his sponsor, George Cartwright, wrote to the Colonial Secretaries Office on 7 July1820.
"………. and should your Lordship be desirous of enquiring into his character, I beg leave to refer your Lordship to Mr. Wm. Gunnell of the Parliament Engrossing Office who has strongly recommended him to me."
It is apparent that at even 19 years of age Denne was well regarded, possessed with some skills as well as having drive and ambition.
Here in Van Diemen's Land for the first twenty years it is apparent the family moved frequently until taking up residence around 1845 at Woodlands, North Bruny Island, where both Anthony and Mary Denne remained until their deaths.
Some details of their various places of residence and work undertaken are as follows.
Tracking has been possible via newspaper reports and other document. In his application for another land grant, made on 10 January 1826, Anthony noted-
on his small grant near Launceston for some time he conducted a windmill
then resided on a farm on the Macquarie River
then moved to Oyster Bay to take on the management of a grazing and agricultural establishment for Mr. Silas Gatehouse. This had been due to repeated plunder of his goods resulting in serious losses.
had moved to Hobart in 1826 because of the danger from repeated attacks by bushrangers and the dread of natives at Oyster Bay.
His purpose in writing was to obtain land in a safer area. His request was declined.
It would appear that the attack by Brady and his gang had unnerved the Denne family as they moved very soon after the event. The newspapers of the time recorded the Brady visit as follows-
The Hobart Town Gazette on 26 November 1825 reported the event as follows: "On Saturday afternoon, Mr. Denne, who resides on a farm belonging to Mr. Gatehouse, near Grindstone Bay, arrived in town, bringing intelligence that he had been six days in the custody of Brady and his party. (The bushrangers) arrived in sight of Radford's hut, which is situated by a large lagoon, near the coast.
They here found M. Denne, and two others, whom they likewise made prisoners, and proceeded next day to Spring Bay, where Mr. Kidner was collecting Mimosa bark. All went into his boat, and sailed to the mouth of Prosser's River, where they landed. This is near the point from which the messenger takes his signal for a boat to come to him from Maria Island, and being desirous to get possession of the boat, they made a fire. They did not, however, succeed in getting the boat, and returned to the hut.
On Saturday, they went to Mr. Denne's at Grindstone Bay, where they remained three days – took five men into custody – releasing Mr. Denne and the overseer – arrived at Mr. Steele's farm, where they took three stand of arms, and a supply of provisions – crossed Swan Port River – took two other men prisoners whom they met, and also Mr. Steele's men …………."
It is believed the family lived at Sorell from 1831 to 1840. On 10 October 1836 Anthony Denne was declared insolvent with the address being Sorell and occupation "general dealer."
On 12 May 1841 he is appointed pound-keeper at Brown's River (Kingston) with the family living in a home that is now the club-house of the Kingston Beach Golf Club.
When the census was taken in January 1842 the family is living at 91 Bathurst Street, Hobart in a stone residence owned by Assigns to Estate of John Swift. On the night eight people are living there, all free.
At the 1843 census the Dennes are living again at Brown's River with the proprietor being Wm. Frollie? Nine people were resident at the home.
On 3 July 1840 Mary's brother, John Thomas Collicott, died with Mary and her sister Eliza Milne being the main beneficiaries. With their brother being wealthy this provided both families with a substantial inheritance.
Mary used her share to help purchase a 700 acre property at Woodlands on North Bruny Island known as Kelly's Farm and which had been originally owned by James Kelly a renowned sailor, merchant and land owner. The property was purchased around 1845 at a cost of £550 and they soon took up residence there, remaining at the property until their deaths.
On the island Anthony took over the running of the ferry with the family operating the Post Office for many years.
Both are buried in the Kingston cemetery.

John Thomas Collicott
John Thomas Collicott
Born 23 September 1798
London, England
Died 3 July 1840
Hobart, Tasmania
John did not marry and had no children
On arrival at Hobart from Sydney in 1819, John took a position with a Hobart Town merchant and by 1823 John advertised as a store-keeper in Hobart. In May of that year, Richard Lewis took him into a partnership, which developed into the business of an estate agent, auctioneer and general appraiser. Lewis withdrew from the partnership in December 1823 with John continuing to build the business into a very profitable concern and by 1834 when he sold the business was providing him an income of £700 a year.
In June 1823 John had received a 500 acre grant at Ross which he let. In August of that same year he is noted as a member of a committee for establishing the Bank of Van Diemen's Land of which he became an original proprietor and in which he held a considerable number of shares at his death.
On 17 August 1822 he had been appointed postmaster at Hobart, and conducted the post office at his rooms in Murray Street. At first he received no fixed salary but retained the postal fees he collected. In 1828 the post office was transferred from private to Government control; the detailed planning and administration of the new system was left to Collicott, who after January 1831 retained the position of postmaster at Hobart at a salary of £300. Although appreciative of his long service, Governor Arthur did not consider him qualified for the whole charge of the postal department, but in 1834 on the departure of Captain England, the director-general, Arthur reluctantly offered Collicott the position on condition he gave up his practice as an auctioneer, which was yielding £700 per year. Arthur attributed Collicott's acceptance of the terms to a "laudable desire to improve his position in society."
In 1834 John was appointed to the Commission of Peace and in 1838 his salary was raised to £450 a year. He was a contributor to the building fund of the Presbyterian church in Hobart, a member of the Church of England, and for many years a member of the Union Club.
John was also an original member of the Port Phillip Association formed in 1835 to develop new land on the Mainland and the Association led to the settlement and development of Melbourne.
In poor health for some time, he died suddenly on 3 July 1840 on the eve of three months leave in Sydney. He was unmarried. In recognition of his 18 years as postmaster, the Lieutenant Governor headed the funeral procession.
During John Collicott's administration of the post office, the mileage of the postal routes was doubled, the use of convict messengers was abolished, letter deliveries in towns were introduced and a system of tenders for the conveyance of mails was established. He died in office, highly spoken of as an obliging and able officer distinguished for his integrity and kindliness.
The Hobart newspaper the "True Colonist" on 10 July 1840 reported –
SUDDEN DEATH
Since our last publication an awful warning to prepare for that dreadful event which must come to all has been addressed to every member of our community, by the sudden death of one of its members, known to almost every inhabitant of the Colony. On Friday afternoon, Mr. Collicott, the Postmaster-General of the Colony, was riding out to dine with Mr. James Wilson; he had been suffering from a pulmonary complaint, which had lately so much affected his health that he was on the eve of proceeding to Sydney for the benefit of a warmer climate, when nearly opposite Dr. Officer's house he was seized with a violent coughing, and a sudden discharge of blood gushed from his mouth. He had time to dismount and call for assistance and Dr. Officer was almost instantly on the spot, but the hand of death was already upon the patient, who was then in the last agonies. His body was removed to the Clubhouse where on a post mortem examination; it was found that he had burst one of the large blood vessels in his lungs. He was buried on Monday, and his funeral was attended by the Governor (Sir John Franklin) and all the Civil Officers, and the greater proportion of the inhabitants of his own rank in life.
Mr. Collicott was universally liked, and no public officer in the Colony had, during the whole course of his official career, fallen less under the censure of the press. His loss as a private friend is deeply felt by his acquaintances and associates – particularly by the gentlemen of the Union Club of which he was an original and much esteemed member.
(Repeat article, The Mercury, Hobart, Tuesday 20 January 1903, page 4)
John Thomas Collicott was buried in the St. David's Hobart, Church of England cemetery.
He died intestate but there are indications that the bulk of his estate went to two sisters, Mary Sheldon Denne and Eliza Milne.
It would appear that John was interested in literature and reading and held a substantial library. These books, comprising 200 volumes, were advertised for sale by public auction on Friday 16 October 1840. (Refer the Hobart Courier 13 Oct. 1840)
British Encyclopaedia, 10 vols.
Shakespeare's Works, 12 vols.
Robertson's Works, 11 vols.
History of England, 16 vols.
Rollin's Ancient History, 6 vols
Annual Review, 5 vols
Letters of Junius and Supplement
British Poets, 46 vols
Byron's Works, 4 vols
Oxberry's British Drama, 6 vols
Dryden's Virgil, Popes Iliad and Odyssey, 6 vols
Don Quixote, 3 vols
Rousseau's Works, 3 vols
Johnson's Rambler and Peter Simple
Dryden's Works, complete, 4 vols
Memoirs of Sheridan and Mrs. Siddons
Langhorne's Plutarch's Lives, 3 vols
Gibbon's Rise and Fall of the Roman Empire, 4 vols
Walker's Selection from the Gentleman's Magazine, 4 vols
Sir Walter Scott's Life of Napoleon, 9 vols
With about One Hundred Miscellaneous Volumes of Books and Magazines.
And a few lots of framed Prints and effects.
Terms – Above £23 and upwards, three months' credit, on approved bills.


Eliza Collicott and George Milne
Eliza Collicott George Milne Married 9 Feb 1828
Born 21 Sep. 1801 Born 1798 St. David's Cathedral
London London Hobart, Tasmania
Died 27 July 1860 Died 6 Mar. 1861
Hobart, Tasmania Launceston, Tasmania
Children:-
George Milne b. 19 Jan. 1829 d. 4 Nov. 1854
Anne Milne b. 1830 d. 24 Mar. 1889
John Thomas Milne b. 1832 d. 17 Apr.1850
Frederick Milne b. 12 Jul. 1842 d. 23 May 1911
Robert Milne b. 7 Oct 1847 d. 16 Apr. 1879
Eliza's mother, Charlotte, died on the same day as Eliza was born.
Her father Thomas Collicott would have been faced with a real challenge in not only needing to rear a new born baby but also four other children, the oldest Charlotte, if still alive, being just six years of age. With a business needing to be run to provide income for the family, employed help was probably obtained.
At a later time Eliza and Mary were sent off to boarding school which helped to provide for their care and give them a good education. Both Eliza and Mary in later life periodically worked as teachers thus indicating they had attained a high standard of education.
Eliza travelled to Australia at the age of 14 years and continued to move with her parents to the Girls Orphan School at Parramatta in November 1818, then accompanied the family when they moved to Port Dalrymple, Van Diemen's Land in May 1821, and then to Hobart by 1824.
Eliza would remain in Hobart all her life, apart from a short time at Port Phillip, Melbourne in the early 1840s.
George Milne whom she married on 9 February 1828 at St. David's Cathedral, Hobart, had arrived in that town on 18 December 1818 aboard the Lord Melville of 412 tons. He was 20 years of age and was travelling with his sister Maria, her husband John Henry Cawthorn and their young son Henry John Cawthorn. Also aboard were 149 male prisoners and a guard of 31 men.
George was the son of David Milne (1756-1818) and Sarah (nee Pannell 1771-1851) and had two brothers and seven sisters. David and Sarah had married at St George Hanover Square, London in 1788. His father worked at Lloyds of London as an underwriter.
David and his brother George had moved to London in the 1780s from Benholm, Kirkcardine, Scotland. They were the sons of James (1721-1810) and Isabel (1731-1822) Milne.
Emigrant George soon applied for a land grant and in 1820 received an allocation of 330 acres at Macquarie Plains (now known as Gretna) and three assigned convicts, but did not reside on the land. He sold the property on 10 December 1829.
Evidence suggests that George took a position at the Hobart Post Office as a clerk, which was being operated by John Thomas Collicott, a brother of Eliza, and it was probably there that Eliza and George met.
Henry Savery in his book "A Hermit in Van Diemen's Land" records an encounter with George Milne in September 1829 at the Post Office.
"……… passing by the Post Office a day or two after one of the recent arrivals from England, my eyes caught the words of my own name, "two letters" written among many others, forming a long list stuck upon the post of the little gate,
communicating between the street and the outward court of the building, and forthwith knocking at the door, I enquired for the treasure, so valuable to all of us when coming from dear and estimable friends.
The door was opened by a young man of sullen and reserved appearance, who knitted his brows as if displeased with the interruption I had occasioned him; and scarcely condescending to look at me, opened a small drawer, turned over several letters, and selected my two, handed them to me, saying "four shillings". Upon payment of this sum withdrew to read the contents."
In Ross' Almanac 1833, p.11, it notes "Post Office Department, Principal Postmaster, John Thomas Collicott Esq., Clerk to the Principal Postmaster, Mr. George Milne."
Similar references continue yearly to 1837.
The 1837 Ross' Almanac also included salaries paid:
Postmaster General – J.T. Collicott £450
Accountant – S.T. Hardinge £200
Clerks – George Milne £150

William Newsham £100
Joseph Cahell £80
Several addresses have been located for the family in Hobart:
1831 to 1837 residing at No. 5 Murray Street which was the Post Office and Auction Rooms of Mr. Collicott. The Milne's lived upstairs above the Post Office.
1837 living at a residence at the Corner of Collins and Barrack Street.
1842 – 1860 resident at 62 Macquarie Street, Hobart.
George finished working at the Post Office on 24 July 1837 and the next reference to him and the family is their departure to Port Phillip on 21 August 1840 on the schooner "Industry", the Hobart Town Courier & VDL Gazette on 28 August 1840 recording among the passengers, "George Milne, wife and three children".
How long they remained in Melbourne is not known: a year later 19 July 1841, G. Milne is noted as a cabin passenger on the "Truganini".
On 13 July 1842 George records his address as Macquarie Street, Hobart, presumably the home at 62 Macquarie Street, Hobart left to them by Eliza's late brother, John Thomas Collicott.
In the 1842 letter George is applying for a position as a Registrar with the Police Department which he was successful in gaining.
Also working in the same Department was Christopher Spotswood, who on 7 April 1848 became George and Eliza's son-in-law when he married their only daughter Ann(e). At marriage Anne was 17 and Christopher 34.
Anne and Christopher lived in Hobart until Christopher took a position of Clerk of the Police Department, Launceston, with an appointment date from 1 December 1858. Nine children were born to the Spotswood's between 1850 and 1870, four boys and five girls.
Eliza received a large inheritance from the estate of her brother, John Thomas Collicott, who died intestate on 3 July 1840 and without a wife or children. This estate was shared equally with her sister Mrs. Denne. The following property has been identified as being received by Eliza:
land and brick building at 111 Liverpool St., Hobart, licensed as the "Cross Keys" inn.
four houses in Liverpool St., Hobart.
brick two-storied house at 35 Davey St., Hobart
brick two-storied house at 37 Davey St., Hobart
brick two-storied house and shop at 60 Macquarie St., Hobart
brick two-storied house at 62 Macquarie St., Hobart.
(George and Eliza lived at 62 Macquarie Street until 1860. Both the Macquarie Street, houses have now been demolished and became part of the St. Helen's Hospital site)
All four of the Milne sons went to sea working as sailors, with three of them, George, John Thomas and Robert all dying at sea.
Firstly John Thomas Milne died at sea under mysterious circumstances. Aboard the "Lady Dennison" a relatively new barque of 159 tons, he left Adelaide on 17 April 1850 bound for Hobart. Travelling were 11 prisoners of the crown escorted by three constables, as well as 11 male and 5 female passengers and the usual crew. John Milne was an apprentice on board the ship.
It is generally believed the prisoners managed to seize the vessel, murdered the crew and possibly the passengers. There are some indications of the boat reaching New South Wales with other reports saying it travelled to San Francisco where those aboard disembarked and melted in amongst the Californian gold diggers in that State.
The second son to die aboard ship was George who died on 4 November 1854 at the age of 24. The Hobart Courier carried a news item of his death, reporting that he had died at sea after a short illness on the voyage from Callao (Peru) to London while working as a first officer of the barque "Rattler", and was the eldest son of Mr. Milne of Macquarie Street, Hobart. The cause of death was noted as disease of the heart and he was buried at sea. The "Rattler" had called at Callao to take on board a load of guano i.e. fertilizer from bird droppings.
The third Milne son to die at sea was the youngest, Robert, who died the result of an accident on 16 April 1879. The ships log recorded this occurring at Latitude 42, 30 min S, and Longitude 138, 30 min E. The accident was as a result of a large wave rolling over the bow of the ship and dislodging a water tank and smashing it against the deck house. Robert was caught in between and had his chest crushed in. This happened at 10.30 at night with his death occurring an hour later. He was buried at sea at 4pm next day.
The following notice appeared in the Hobart Mercury on 8 May, 1879 "Accidentally killed on board the barque "Pelham", Robert Milne aged 31 years, late of Sandy Bay, fourth son of the late George Milne Esq. of Hobart Town."
Records tell that Robert Milne had married Louisa Denne in 1873 with them having a daughter, Effie Eloise Milne, born 1874.
Frederick, their fourth child, also went to sea, working as a sailor for four years between 1861 and around 1865.
Before his marriage to Martha Annie Maria Terry on 5 October 1865 he had left the sea. Martha was the only child of Edward and Mary Ann Terry of Macquarie Plains (now Gretna) who had a 1,312 acre property in the area and which adjoined Frederick's uncle and aunt's, Henry and Maria Cawthorn, property.
It would appear that Frederick was offered work on the property and on the death of Edward Terry on 17 November 1868 took over the management of the property, known as "Askrigg", which later passed to his ownership.
Eliza Milne died at her residence 62 Macquarie St., Hobart on 27 July 1860 with her husband George dying at their daughter's residence, Ann, Mrs. Chris Spotswood, of York Street, Launceston, just over seven months later. Eliza is buried in the St. David's Church cemetery, Hobart and George in the Launceston Cypress Street cemetery.
The children of Mary Collicott previously married to Dr. Richard Allen
Jan Allen and Richard Kerkham
Jane Allen Richard Kerkham Married
Born 14 Dec 1792 Born 7 Feb 1787 16 Sep. 1811
London, England England Marylebourne Church
Died 11 Dec 1872 Died 17 Aug. 1863 London
Bishopsbourne, Tas Bishopsbourne, Tas
Children:-
Richard Kerkham b. 9 Aug 1812 d. 20 Feb 1813
Richard Charles Kerkham b. 6 Aug 1813 d. 26 Dec 1889
Mary Ann Kerkham b. 3 Jun 1815 d. 13 Jun 1848
Solomon Kerkham b. 22 Apr 1816 d. 24 Jan 1906
George Kerkham b. 22 Mar 1818 d. 29 Jul 1900
Joseph Kerkham b. 27 Jul 1822 d. 9 Jul 1911
Rebecca Ratcliffe Kerkham b. 19 Sep 1924 d. 4 Feb 1907
Jane Allen Kerkham b. 1 Jan 1827 d. 23 Jan 1906
Richarda Emily Kerkham b. 21 Sep 1829 d. 29 Aug 1852
Susannah Sarah Kerkham b. 5 Feb 1832 d. 22 Mar 1913
The surname in various records is spelt either as Kirkham or Kerkham.
When Jane's mother, and six of her family members left for Australia in mid year 1815 the goodbyes must have been very painful, particularly for Mary leaving behind two daughters and grandchildren. If she was ever to see her husband Thomas again she had no choice for he was not permitted to return to England. Therefore it is likely that she was already exploring ways to bring these two families to Australia.
It is likely that prior to departure that some discussion had already taken place as her sister Susanah and husband William Capon were noted on the margin of the letter that Sir Robert Wigram wrote to the Colonial Secretaries Office when he was arranging for Mary and the family to emigrate. In that letter he requested that Mary and seven children be approved to go to Australia. Six only boarded the ship.
Following is correspondence relating to the emigration of Jane and Richard and their six children.
Robert Wigram wrote the following letter to Henry Goulburn Esq.:-
"Walthamstow House, Essex
April28, 1820
My Lord,

It is with reluctance I intrude on your Lordship's time on behalf of the Petitioner whose letter I enclose whose wife Mrs. Kirkham is the daughter of an old school friend and school fellow of mine – He was a Surgeon of respectability & he had served in H.M. Navy; and on his death his widow married Mr. Collicott who unfortunately was guilty of a breach of the Excise Laws, which caused him to be sent to Botany Bay – His wife followed him with a large part of their family, and they are now doing very well at Parramatta where they are entrusted with the management of the Orphan Asylum of above sixty children.
Mrs. Collicott has written to me requesting my assistance to get her daughter Mrs. Kirkham (sic) & her Husband with their family out, as she assures me she can take good care of them all. It is therefore but an act of justice in me to say that after making enquiry of two of the Captains who have been at Botany Bay, the report of their Character, Institution in the settlement is so fair, that I can with great propriety recommend their request of having their daughter, Husband and children put to your Lordship's kind consideration.
I am, My Lord, Your faithful & obedient Servant,
Robert Wigram."
Wigram wrote another letter to :-

"The Right Honorable, Earl Bathurst, Downing Street
Crosby Square
May11th. 1820
My Lord,
With many thanks I acknowledge the Honor of your Lordship's favour of the 6th. inst. Paying attention to my recommendation of Mr. & Mrs. Kirkham for whom I feel a lively interest; they have five children and Mrs. Kirkham has set her mind to get them out to her mother who has offered to take one of them rather than lose the season they should go on a female convict ship.
Neither Mr. or Mrs. Kirkham have funds, able to assist them, he has lost all of his property in a business and would be glad to take any station of charge as a Clerk in a bounty or any other Ship-free of charge, & of which he is fully capable.
I consider the children being sent out as so desirable that I will send Rice, Teas & Sugar and such food as necessary for them to save drawing one mess of Salt Provisions & by that means diminish the expense to the Government.
I am, Sir, R.W. Wigram"
Note by Earl Bathurst on the letter:-
"Let them go any ship in which they can stuff them."
Robert Wigram wrote a letter of thanks for helping Henry (sic) Kirkham to Henry Goulburn Esq.:-
"Portland Place
4th. July 1820
Sir,
I have to acknowledge the receipt of the favour of the 27th. ult. enclosing a letter of recommendation to the Governor of New South Wales in favour of Mr. Henry Kirkham for which I beg to return my thanks to Lord Harrowby and assure his Lordship it is a real act of Charity – particularly the sending the five children the eldest of whom is but six years old, to their Grandmother who has the means of providing for them.
I remain Sir, Your most obedient Servt.,
R.W. Wigram."
Richard and Jane Kerkham and children arrived in Hobart in 1821 sailing from London aboard the "Midas".
By 1824 they are recorded as living and farming on an Oaks Road property near what is now Bracknell. Then in 1834 on the death of Jane's stepfather, Thomas Collicott, they moved the short distance over the Liffey River and took over his property. There Richard Kerkham also took over the running of the pound located on the property which he operated until 1841 when the pound was discontinued.
The family remained at the property until after the 1870s as both Richard and his wife Jane are noted as living there at the time of their deaths.
The Kerkham family were strong supporters of the Wesleyan Church and donated land for the erection of a chapel on their farm property. The opening services for the newly built church were held on Sunday, 27 October 1872. (for full report see the Launceston Examiner on Thursday 31 October 1872 page 2)
Both Richard and Jane are buried at the Church of England cemetery at Carrick.


Susannah Allen and William Capon
Susannah Allen William Capon Married
Born 30 Jul 1795 Born c1791 12 October 1812
London, England England St. Mary, St. Marybone
Died 1827 Died * Middlesex, England
Norfolk, England
* Death – William Capon: unclear, there is a record of a William Capon dying at Hotham, Victoria in 1887 born about 1791. Other researchers believe he may have returned to England and died at Norwich, Norfolk.
Children:-
William Christopher Capon b. 1814 d 8 Aug 1867.
Helen Capon b. 1815 d.
Ann Capon b. 1817 d.
Margaret Cotteral Capon b. 1817 d. 9 Nov 1894
Susan Capon b. 1819 d.
Hannah Capon b. 1820 d.
Richarda Capon b. 1822 d.
Elizabeth Allen Capon b. 1824 d.
William and children arrived in Launceston, Van Diemen's Land aboard the vessel "Charles Kerr" on 20 November 1835 and would remain at Launceston for the rest of their lives. Susanah had died while the family was living at Norfolk, England.
Soon after arrival William set up business in Brisbane Street, Launceston as a plumber and glazier, however the business did not prosper and by January 1837 he had filed as being insolvent. He again became insolvent in 1846. (the Launceston Examiner of 17 March 1846 records). In 1847 he is noted as operating a business in Charles Street, Launceston as a plumber and a painter.
The 1842 Census taken on the 1st. January reveals some information about the family.
The family is living in a brick dwelling in St. John Street, Launceston which is being rented from John Cameron. Thirteen people were resident there on Census night, one more than the usual number. Of the 13 present only two were males, presumably William and his son Christopher, with 11 being females. Six of the females were under the age of 21 years.
In 1838 a change of occupation had taken place for William, with him being recorded as a clerk with the Roads Department.
The 1854 Electoral Roll for Launceston records the family still living at St. John Street, Launceston, with William now being employed by the Launceston Municipal Council on a salary of £100 per year. Other records show that when Launceston was declared a Municipality in 1853, William was appointed to the position of inspector and collector of rates. The position had its challenges it being noted in a Council meeting report that he received abuse on almost a daily basis. Other reports show that he was periodically assaulted.
By 1864 William had changed jobs and took a position as Summoning Officer with the Court of Requests, Launceston, commencing on 1 January 1864. He continued in this roll until 1870 then when near 80 years of age he was appointed Collector for the Launceston Benevolent Society. In the report in the Launceston Examiner on 19 March 1870 William is requesting the support of the public for the work of the Society. He appears to have worked in this position until the late 1870s.


Richarda Allen and Thomas Haydock Reibey
Richarda Allen Thomas Haydock Reibey
Born 2 Sep. 1798 Born 6 May 1796 Married 28 May1817
London, England Sydney Sydney, Australia
Died 18 May 1888 Died 2 Oct. 1842
"Entally" "Entally"
Hadspen, Tasmania Hadspen, Tasmania
Children:-
Mary Reibey b. 27 Mar 1818 d. 1895
Thomas Reibey b. 5 Aug 1820 d. 7 Aug. 1820
Thomas Haydock Reibey b. 24 Sep 1821 d. 10 Feb 1912
James Haydock Reibey b. 1823 d. 8 Jul 1897
Richarda and Thomas would have first met in Sydney where Richarda and one of her step-sisters, probably Mary Collicott, were conducting a school and where Thomas Reibey, the eldest son of Thomas and Mary, was working in the family businesses.
By 1817 they had married.
Thomas Haydock Reibey was the eldest child of Thomas Reibey (1769-1811) and Mary (nee Haydock) Reibey (1777-1855) and had two brothers and four sisters. With his fathers early death Thomas was soon thrust into work in these businesses. His mother Mary was possessed with great drive and business acumen and greatly developed their various enterprises of shipping, agriculture, whaling and commerce into one of the largest businesses in Australia, while at the same time having to raise her seven children. Having become one of the wealthiest persons in the Colony she was greatly admired for her skill and fortitude.
We continue to be regularly reminded of Mary Reibey by her picture which appears on the Australian $20-00 note.
Following the death of his father, young Thomas Reibey soon became the Captain of the family ship which regularly sailed between Sydney and Tasmania, carting produce between the two centres.
His mother Mary obtained a grant of 300 acres at Hadspen, about 8 miles west of Launceston, on which in 1819 Thomas built a home which he called "Entally". He named it after a suburb in Calcutta, India.
Other grants were soon obtained and by 1819 the Landholder's Muster records he owned five horses, 92 cattle and 600 sheep on a property with 2430 acres of pasture and two hundred acres of wheat.
The three brothers founded the Tasmanian branch of the family and all followed their parents' lead in mercantile and shipping ventures. By November 1822, Thomas had become a partner with a brother as a general merchant and commission agent at Launceston, trading under the name of Thomas Reibey and Co.
Thomas continued to expand his farming operations mostly by obtaining further grants. The following grants have been identified-
640 acres, Liffey River, eastern side
1 422 acres, Liffey River, western side
2 147 acres, Liffey River, western side
300 acres, Carrick
300 acres, Carrick
2 568 acres, Hadspen
365 acres, Hadspen
Plus by purchase
536 acres, St. Leonards, Launceston
500 acres, Bristol Park, Bishopsbourne
TOTAL 8 778 acres
The family were strong supporters of the Church of England and when Christ Church at Longford was being built were major donors. Thomas was the Chairman of the Committee which drove the project. In 1842 the family made a further large donation by giving £300 for the purchase of a peel of bells. (Report Colonial Times, Hobart, 14 June 1842).
Not a lot is known about Richarda but it is likely that she was much involved with the development of the "Entally" property, supporting her husband Thomas and rearing her children. That her two sons entered the ministry is a good indicator that a Christian home and teachings were provided.
A good education appears to have been a top priority with their son Thomas (1821-1912) attending W.G Elliston's school at Longford and with his brother James, was sent to England, attending Trinity College Oxford to be coached for university and holy orders.
Both Thomas and James became ordained Church of England ministers.
Thomas, husband of Richarda, died at his home at "Entally" on 3 October 1842. The Australian newspaper of Sydney reported-
DEATHS
At his residence, Entally, near Launceston on the 3rd instant, Thomas Reibey Esq., eldest son of Mrs. Reibey, of Sydney, and for many years a magistrate of Van Diemen's Land.
Richarda also died at her home at Entally on 18 May 1888 in her 90th year, with her burial taking place five days later at the Christ Church cemetery, Longford on 23 May. An account of the funeral appeared in the Launceston Examiner on the same day.
LONGFORD NOTES
The funeral of the late Mrs. Thomas Reibey, sen., took place today leaving the residence of her son (the hon. Thos Reibey, Entally) at noon, and reaching Christ Church, Longford, precisely at 3 o'clock. The cortege was a long one, consisting of a large number of carriages occupied by relatives and friends of the deceased lady, besides about one hundred on foot, including many of the Entally estate tenantry, residents of Westbury, Launceston, Longford and Carrick among whom I noticed Revs. J. Chambers, Evandale; T.M. O'Callaghan, Westbury; and J.J. McKernan, Longford, the hon. W. Dodery, M.L.C., Messrs W.H.T. Brown, H.R. Dumaresq and E.H. Button, Ms.H.A., the Warden of Longford (W.H.D. Archer) and Westbury
(D. Burke), Dr. Appleyard, A. Archer, L. Archer, T.C. Archer, T.R. Atkinson, R.H. Douglas, F.H. Gibbs, H. Gatenby, H.B. Hutchison, C. Hopkins, M. Mahoney,
A. M'Kenzie, A. Monyhan, Stearne Phillips, A. Whitfeld, and J. Wilmore.
The Chief mourners were – the hon. Thomas Reibey and Mrs. Reibey who followed next the coffin, which was covered with a number of beautiful wreaths), the Rev. C.H. and Mrs. Arthur, Messrs. T.R. and G.H. Arthur, Captain Albert Arthur, R.N. and Dr. Mason, then the grandchildren. The corpse was met at the gate by Archdeacon Mason (Hobart), Cannon Adams (Hagley), Revs. A. Barkway (Launceston) and A. Wayn (Longford), three of whom took part in the service in the church and at the family vault. Hymn No. 328 "A few more years shall roll," and 479 "On the resurrection morning" were sung during the service by the choir, Miss Wayn presiding at the organ; the "Dead march in Saul" was also played as the procession left the church. The whole of the funeral arrangements were creditably carried out by Mr. John Wright, one of our local undertakers.


Richard Allen and Emily Mary Robinson
Richard Allen Emily Mary Robinson
Born 20 Oct 1799 Born Married 21 Feb. 1828
London, England Sydney Sydney, Australia
Died 16 Jul. 1844 Died 4 Feb. 1893
Sydney, Australia Hobart, Tasmania
Emily secondly married James Ebenezer Salier at Hobart in 1850
Children:- None located to either marriage.
Richard Allen reached Sydney in 1816 and on 1 June 1818 was apprenticed to Captain Ritchie of the brig "Greyhound" at Sydney. The next year on 8 August 1819 aboard this same vessel but under the control of Captain Campbell sailed for Calcutta and for a time had been thought to be lost, but eventually made it back to Sydney by 17 March 1820. Richard left the sea in 1822 and worked at Bull's Farm at the Female Orphan Farm School at Parramatta for Mr. Robson.
The progress and well being of the Allen family continued to be of interest to their old family friend Sir Robert Wigram and to help in a practical way sent £100 each to brothers Richard and George Allen. This assisted both to take up training in the legal profession. Younger brother George was the first to qualify and he took Richard into his work place as an articled clerk, commencing on 17 January 1825. at £40 per annum.
From there he moved to the Court of Requests at Sydney where he was appointed the Registrar from 14 July 1827. He remained in that position until his death in 1844.
Early the next year in February 1828 he married Emily Mary Robinson with the Sydney Gazette and New South Wales Advertiser on Friday, 22 February 1828, recording the event as follows-
MARRIED
Yesterday at St. James' Church, by Special Licence, by the Rev. Richard Hill, Richard Allen Esq., Registrar of the Court of Requests, eldest son of the late Dr. Allen, of London, to Miss Emily Mary Robinson, the only daughter of the late Michael Robinson Esq., the Veteran Bard of Australia.
Emily's parents, Michael and Elizabeth Robinson, had died within a few weeks of each other about a year before Emily's marriage, Michael on the 22nd December 1826 and Elizabeth on 15 January 1827. Their residence at their time of death was given as Castlereagh St., Sydney.
Some details of Michael and the family are to be found in the newspapers of the time.
The Colonial Times and Tasmanian Advertiser on 19 January 1827 recorded:-
"Died at Sydney on 22 December, Mr. Michael Robinson, an inhabitant of that Colony between 20 and 30 years, during many years of which period he was Principal Clerk in the Colonial Secretaries Office. Mr Robinson possessed literary acquirements, and had been a very useful member of Society. He was 80 years of age".
Elizabeth Robinson's death notice, to be found in The Sydney Gazette and New South Wales Advertiser on Wednesday, 17 January 1827 reads-
DEATH
"On Monday night, after a long illness, Mrs. Robinson, widow of Michael Robinson, whose demise we had the melancholy duty of recording not a month since. The deceased leaves two sons and a daughter to lament a mother's loss. Mrs. Robinson was a daughter of Mr. and Mrs. Robley, of Van Diemen's Land, and by birth a Norfolk Islander".
Richard Allen died at his residence, Elizabeth Street, Sydney, on Tuesday 16 July 1844 at the age of 44 years.
A clearing sale of his personal effects was held on 31 July 1844 with a list appearing in the Sydney Morning Herald.
HOUSEHOLD FURNITURE, Consisting of
Chairs
Tables
Sofas
Looking-glasses
Dining table
Loo tables
Book cases
Mahogany four-post bedstead with green damask furniture
Mattresses
Oil cloth
Shower bath
Medicine chest
Chimney ornaments.
MUSICAL INSTRUMENTS
A very superior brilliant-tone Pianoforte, by "Collard and Collard"
A very powerful toned Seraphine, by Ellard and Sons Dublin
One powerful musical box (very fine), playing four Overtures
One ditto ditto, playing eight airs
One violin, supposed "Cremona", in case
Fine large drum, in case
SILVER PLATE AND PLATED GOODS
Table spoons
Desert ditto
Table forks
Dessert ditto
Gravy spoon
Marrow spoon
Decanter stands
Pint mugs
Tea spoons
Coffee pot, teapot, sugar basin
Cream ewer, candlesticks, &c
About 100 volumes Books
ALSO
A very ingeniously constructed model of a Fortress, mounted with 37 long Guns and one Mortar. This curious piece of mechanism can be moved without the slightest chance of injury.
AFTER WHICH
Kitchen furniture and utensils
Richard's wife, Emily, remarried in 1850 to James Ebenezer Salier. The following notice appeared in the Hobart Colonial Times on Friday, 18 October1850
MARRIED. On the 16th. instant, by the Rev. J. Eggleston, at the Centenary Chapel, Melville Street, Mr. James E. Salier, merchant of this City, to Emily Mary, relict of
Richard Allen Esq., Sydney, New South Wales.
Emily died on Saturday, 4 February 1893 at the family residence, "Sydney Lodge", Brisbane Street, Hobart.
James Salier, her second husband, died at the same residence on 17 August 1894 in his 75th. year.
Child (5)
George Allen Jane Bowden
Born 23 Nov 1800 Born 2 Nov.1807 Married 24 Jul. 1823
London, England Devonshire, England
Died 3 Nov 1877 Died 19 Jan. 1893
Sydney, Australia Sydney, Australia
Children:- 14 of which 10 grew to adulthood.
Researched and written by Ivan Badcock