Bishopsbourne, Tasmania, as a named place, came into existence in 1844 when Bishop Francis Nixon, the first Church of England bishop in Van Diemen's Land, purchased part of the Vron farm property from the William Gwillim Walker Estate. Bishop Nixon designated that the College being established be known as Christ's College and the township Bishopsbourne. Previously the area had been known as Little Hampton.
The Bishopsbourne town boundaries were established in 1848 and was declared a town on 3 July 1866.
Locally, the residents of Bishopsbourne became known as "Swampers", possibly a carryover from the 1824 survey map where the township area was described as "Swamp".
Pre Bishopsbourne
Aboriginal People – Known as the Panninher (Par-nin-her) people.
The Panninher people had lived in the area for probably thousands of years, and at Bishopsbourne were known by colonials as the Penny Royal Creek tribe. Evidence of their existence may still be found by their flint and stone tools scattered throughout the area, knives, scrapers and seed grinders. The knives are often well shaped to fit comfortably in the palm, with the cutting edge scalloped to provide sharpness.
Bishopsbourne established
Land Grants
1824 Survey Map – Bishopsbourne Area
1821 – Grants 80 acres and 60 acres – originally granted to Elizabeth Richards (William Field's de facto wife) and Joseph Bonney (William Field's farm manager) but later transferred to William Field. The "Enfield" mansion was built on the property located two miles south of Bishopsbourne.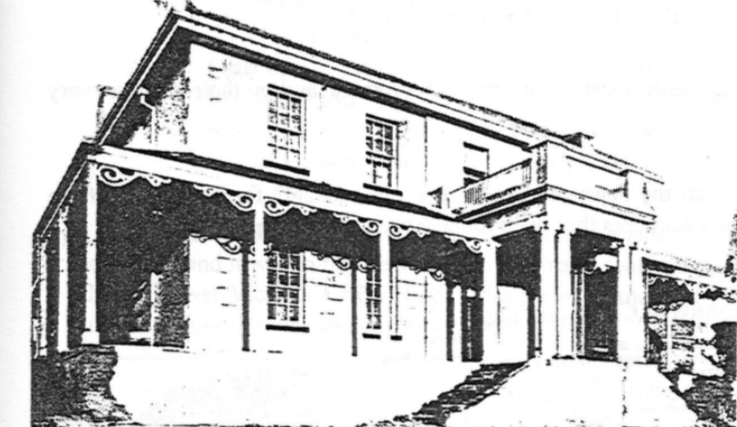 1823 – Grant of 500 acres to Thomas Collicott located midway between the now towns of Bishopsbourne and Carrick, Tasmania. He named the property Bristol Park but is now known as Liffey Farm.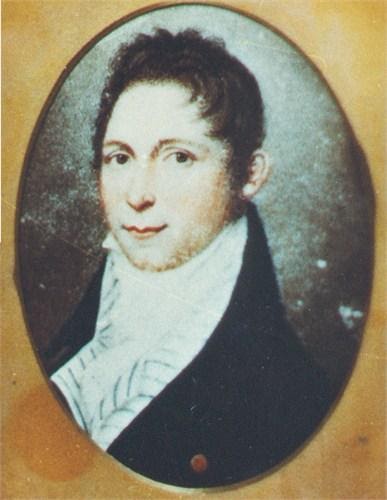 1825 and Later – Grants to William Gwillim Walker, who named his properties "Vron" – he received 2,000 acres on (7/2/1825) listed on the 1824 survey map as Swamp, 1,000 acres (26/5/1829), 1,000 acres on (1/2/1831) with the purchase of a further 1,000 acres near Carrick in 1839.
Grants to G. Lucas, 2 x 450 acres each adjoining, and on the southern boundary of the Walker Vron property. These grants were later transferred to William Field.
Grant of 640 acres – originally Wallace's land but later granted to Thomas Reibey of "Entally", Hadspen.
1826 – Grant 2,032 acres to George Briscoe Skarden, which he named "Little Hampton", the property joining the Vron grant on his western boundary.
1826 – Grant 2,246 acres to William Pritchard Weston, named "Maitland", and joining Little Hampton on the eastern side.
!826 – Grant 500 acres to Horace Rowcroft, which he named "Woodstock". A further grant of 1,280 acres, which adjoined, was received in 1831. His property bordered Skarden's Little Hampton property to the west and was north of the Maitland grant.
Other Items
1831 – A government pound recorded located at the Liffey Rivulet on Field's property near Vron. Poundkeeper Thomas Manning.
1832 – Bushrangers raided William Field's "Enfield" property, also on several other occasions. Bushrangers were very active in the area, so much so that farmers going out to plough often tied a gun to their plough handles and kept others at the ready for protection. When the College was opened in 1845, those attending were advised to carry a pistol as murders had occurred in the vicinity.
1844 – A horse race with prize (300 pounds aside) between Messrs Richard Dry's colt and William Field's filly, both 3 years old, and run three times around the course. Won by Dry's colt.
William Field developed a racecourse half a mile south from Bishopsbourne, where race meetings were held for decades. William Field Jnr bred and raced many outstanding horses, one being STROP, who won four Launceston Cups and one Hobart Cup and ran second in the 1868 Melbourne Cup.
The Field family had their own racing colours, a red cap and sleeves and a blue body and is still registered. It is one of the oldest, if not the oldest, registered racing colours in Australia.
Schooling – Bishopsbourne
1844 – When Bishop Nixon visited the area, he was presented with a petition requesting the provision of a primary school. It was signed by 75 signatures and included an offer from parents of help to the extent of 6d. per week, per child. An indication of student numbers is gleaned in an 1843 report, prepared by Rev. R.R. Davies of Longford, who mentions 82 children up to the age of 14 years residing within 2 miles of the site proposed for the school. This was subsequently approved with a schoolroom and separate residence built-in 1845. It was located on the "V" shaped block on the Longford end of Coach Lane. The first schoolmaster was Mr T.B. Garlick, who would remain in the position till midyear 1848.
By 1875 a new school had become necessary with a new school with attached residence built and would continue in use till 1933, when superseded by a single-roomed school, moved on-site from the Upper Liffey. This was used until the end of the first term in 1955 when the school was closed, with students transferred to Bracknell, four miles away, with transport provided by the Blackwood Creek school bus.
Other Schools at Bishopsbourne
Miss Emily Bowcher conducted a small private school which operated for 5 years till December 1903.
Another private school was conducted by Mrs Gregory but closed in August 1905 when she left the district.
At Maitland, a Public School was conducted by a Mr Bryant but was closed when he resigned in 1864.
At "Hany", Little Hampton (now Toiberry), a Seventh Day Adventist School operated, little is known about the school but one record when operating, gives a date of June 1907.
Hotels
1844 – William Webb submitted an application for a license to operate a hotel from his leased premises to be known as the "Bush Inn". This was approved and operated very successfully and, when advertised for sale in the 1860s, was stated as being the most profitable hotel in Tasmania. With declining business, it was closed in 1896. The premises later operated as the local store, post office, telephone exchange and now a private residence.
At Bishopsbourne, a second hotel, the "Forest", operated over the road from the Bush Inn for a short period. A license was granted to George Pearson in December 1862 but had closed in 1865 when George gained the "Bush Inn" lease. The "Forest" was of timber construction and was destroyed by fire on 23 May 1872.
Churches
1844 – On 9 October, Bishop Nixon laid the foundation stone for the Bishopsbourne Church of England. The church was originally known as Christ Church but some decades later was changed to "Church of the Holy Nativity". The church was built by a local resident builder, William Webb, he also erecting around 12 houses in the village, as well as his residence which was later licensed as the "Bush Inn" hotel. This was built prior to 1842.
1845 – The Bishopsbourne Church of England was opened on 25 April 1845 by Bishop Nixon. The Church had a bell attached. It was a ship's bell and inscribed with the date of 1836 and was gifted by church member George Briscoe Skarden of "Little Hampton", who had used it at his property to call people to worship services previously conducted at his house. He also presented a wrought iron pulpit which would continue to be used at the Bishopsbourne church for the next 100 years.
Cemetery
A cemetery was established soon after the church's opening, but with the loss of the burial book, early burials are uncertain. Research in newspaper records have located near 100 burials not recorded in the recreated Church records with many unrecorded children burials, possibly up to 200 more. One burial record was located in 1848.
An undertaker, Charles Chiplin, operated in the town in the 1860s and again in the 1880s on his return to live at Bishopsbourne. Charles was also a wheelwright and possibly was the maker of coffins.
Methodism in the Area
Three Methodist Churches have been located operating in the area, Bishopsbourne township, Little Hampton 1½ miles from the town along the road to Longford, and the Liffey Church 2½ miles along the Bishopsbourne to Carrick road. All were Wesleyan Methodists.
The Wesleyans are recorded at Bishopsbourne prior to 1850 with the baptism of John Manning, the son of Mr. and Mrs George Manning, taking place on 31 January 1849. Another record tells of the Longford Circuit Wesleyan minister, Rev H.H. Gaud, being held up at gun point when leaving Bishopsbourne on horse back, after an evening service in April 1850. He was shot at from a distance of 6 yards but fortunately the bullet missed.
Initially a house was rented as a meeting place but frequently was found too small for their needs. At Bishopsbourne a church was established in 1875 in a former shop premises moved on-site and, after renovations, was opened for worship on 18 July 1875. The church was very active for decades in the community as indicated in the 1883 Sunday School Anniversary report which gave numbers of scholars on the roll as 55 with average attendance of 40 and eight teachers. With dwindling numbers the church was closed on 29 September 1912. The Little Hampton church had initially been built at Maitland in 1863 but had been moved to the "Little Hampton" property in 1875 and continued to operate until 1975 when closed. It is now a private residence. The Liffey church was established principally by the Kerkham family on their "Liffey Farm", and opened in 1872, operating till 1909 when it was removed to Elphinstone Road, Cressy to be used by that Methodist congregation.
1846 – A Post Office opened – the Postmaster Charles Powell.
1846 – Christ's College opened on 1st October 1846, the Warden Rev. J. Phillip Gell from Trinity College, Cambridge, and operated till closing in 1857 due to a lack of finance. The College was effectively Australia's first University. Over the 11 years of operation a College of excellence was established with many of those attending going on to occupy high places in the State's history. The end of year prize list of 1855 recorded 42 students in residence and included the names of Pedder, Davies, Arthur, Mason, Bedford, Gates, Denison and Pitcairn, all of whom became notable. Three students trained at the College became Archdeacons – they were the Ven. Peter Righton Atkinson of Surrey, England, the Ven. Peter Parry Fogg of Natal, South Africa and the Ven. Alfred Nathaniel Mason of Hobart. Sir William Lambert Dobson, K.C.M.G., also William Ritchie who founded the legal firm now known as Ritchie and Parker, Alfred Green and Company, were also trained at Bishopsbourne, as was the church historian, Ernest Whitfeld.
1847 – A Coaching service established by William Dodery connecting Bishopsbourne with Longford and Launceston. The coaches calling were Wonderer and Hero. Fares to Launceston, inside 4s. and outside 3s.
1847-1849 – Rugby was played at the College, the first played in Australia. (Refer to an Examiner article of 16 November 2011 by Julian Burgess)
1851 – (11 Feb.) – The first interstate cricket match was played at the Bishopsbourne College oval between Tasmania and Victoria. William Field of "Enfield" played in the Tasmanian team.
1851 – (12 March)- A plan was drawn up for a Watch House at Little Hampton.
1857 – Christ College organ sold to the Paterson Street, Launceston Methodist Church.
1862 – (11 Dec.) – Tenders called for the erection of a Watch House at Bishopsbourne.
1863 – (10 April) – The home of Rev. J.N. Norman was destroyed by fire.
1870 – Jane Oakenfall made an application for a license to operate a boarding house at Bishopsbourne. Approved. She later operated a general store. Husband Thomas was a shoemaker.
1872 – The electric telegraph was installed at the Bishopsbourne Railway Station.
1875 – The electric telegraph extended to the Bishopsbourne township.
1875 – (18 February) – The house, store and stock of Harris and Son at Bishopsbourne destroyed by fire.
1877 – Some details of the town as recorded in Baillure's Tasmanian Gazetteer – "The township forms part of the Bishop's estate. ……………………….. The district is an exclusively agricultural and pastoral one. Bracknell is the nearest township, distant about 5 miles S. from Bishopsbourne. The mail is carried between Bishopsbourne and Bracknell on horseback. By train the Launceston and Western Railway runs three trains a day through Bishopsbourne to Bishopsbourne station, which is about 2 miles from Bishopsbourne township, and a spring cart meets the trains for the convenience of passengers. There is one blacksmith and one wheelwright in the township, and one hotel, the Bush Inn. The surrounding country is flat, surrounded by hills at a distance The population of Bishopsbourne township is about 120, or including surrounding neighbourhood of about 500. There is a public school, a Wesleyan Methodist chapel, and an English church. There was formerly a college here, "Christ's," but the establishment has long been broken up, and the building is falling into decay."
NOTE:- Four blacksmith shops at different sites are recorded as operating at Bishopsbourne.
1883 – (26 September) – A strong earthquake felt in the area.
1885 – The Bishopsbourne Police cell removed
1885 – The electric telegraph extended to Bracknell
1887 – The electric telegraph connected Bishopsbourne to Carrick.
1890 – The Bishopsbourne Police Station was damaged by fire caused by a spark from a passing steam engine.
1890's – A milk separator was established adjacent to the Bishopsbourne Railway Station. It operated for several decades.
1905 – Death of Henry Blackwell a Bishopsbourne resident for nearly 50 years. He operated as a blacksmith and farm machinery maker and was superintendent of the Wesleyan Methodist Sunday School for 40 years. He also established a Wesleyan Church in the town, in a former shop building which he purchased, moved, and donated to the Wesleyan Society. Above his blacksmith shop was a hall which he made available for a range of community activities. It measured 70 feet X 20 feet but shut down around 1900 when he closed his business.
1906 – Death of Joseph Walters, a resident of Bishopsbourne for between 30 and 40 years, was the proprietor of a general store and operating a smoke house and bacon factory. He was the Postmaster between 1876 and 1884 and a steward at the Methodist Church.
1909 – Cows licensed to graze on the roadside – 7 at Bishopsbourne.
1914 – Trooper Beams, the last Bishopsbourne policeman, retired. (Ex. 11 Feb. 1914)
1918 – Tree planting – Bishopsbourne Soldiers Avenue, in the township along the road to Carrick, elm trees, with 17 trees still existing. The Tasmanian Premier of the time, Walter Lee, attended and helped with the planting.
1922 – Bishopsbourne Public Hall, foundation stone laid 29 July 1922 by Sir Walter Lee, Premier of Tasmania
1922 – (29 October 1922) – The Bishopsbourne hall was opened
1923 – Bishopsbourne Police Station sold.
1925 – (Merc. 18 Nov) – For Postal purposes, Little Hampton in future to be known as Toiberry.
1926 (approx..) – A telephone service installed (Refer Examiner 3 Aug. 1928).
1929 – (27 November) – Electricity was switched on to 12 houses at Bishopsbourne.
1933 – The removal of the Upper Liffey School to Bishopsbourne completed
1935 – Students from the closed Green Rises school now attending school at Bishopsbourne.
1935 – A meeting was held to discuss interest in securing a recreation and sports ground.
1936 – A native hen shoot conducted, 18 shooters with 500 hens shot and 2 000 eggs destroyed. (Mercury Paper of 27 July refers).
1937 – Trevor Brooks of Toiberry won the prestigious Warrnambool to Melbourne cycle race, a first by a Tasmanian rider.
1937 – A picture of new King George V1 presented to Bishopsbourne
1938 – A porch at the front of the hall built.
1941 – Mick Goss of Bishopsbourne set a new world record for the two-mile event, in a time of 9 minutes 11 2/5 seconds.
1946 – The Bishopsbourne Centenary Sports Carnival held at the College grounds.
1947 – A new Recreation Ground established in the township; events were previously held at the College (now known as Bishopsbourne Community Centre)
1948 – The Bishopsbourne football team won the Esk Association premiership
1954 – An automatic telephone exchange commenced, bringing together subscribers attached to the Toiberry and Bishopsbourne manual exchanges.
1970 – Keith Badcock of Bishopsbourne won the acclaimed Burnie Gift, one of Australia's top sporting events. In the same year he was awarded the Tasmanian Sprint Championship.
1970 – (7 February) – Shop, Post Office and residence (former Bush Inn) the property of Alan and Margaret Smith, gutted by fire. Later rebuilt as a residence.
1976 – Irrigation water reached Bishopsbourne via a channel of the Cressy-Longford Irrigation scheme. A welcome benefit for the town.
1982 – (27 January) – a large grass/bushland fire along the railway line from Woodstock to Longford. A number of grain crops burnt. The train driver on becoming aware that the logs being carried had caught alight, decided the best way to save the train was to reach Longford, but in the process set fires for several miles along the line.
1988 – The last annual sports meeting and sheep dog trials held.
By Ivan Badcock – 4 August 2021