Grandfather, or Dad Dad as he was sometimes known by the grandchildren, was born at "Pleasant Hills", Glenore, Tasmania on the 18 July 1879, the eighth child of an eventual family of 12 children born to William and Susan Badcock. His parents were mixed farmers and they, William and Susan, were to remain at the farm till their deaths, William in 1911 and Susan just over 12 years later in 1923.
Melvyn like his forebears was of medium build, about 5 ft. 8 ins (172 cm). tall when fully grown, and during his working life weighing around 12 stone (76 kg). He had a fair skin, light black hair and hazel to grey eyes. His nature was outgoing and friendly but possessed with a strong will, determined to succeed at work and other activities undertaken.
Grandfather grew up on his parent's farm at Glenore, Tasmania. Initially, he went to the Glenore school, which adjoined their farm, until his last year when he attended Hagley (now Hagley Farm Primary School). He left school at the age of 14 years and went home to work on the farm. In the diary that his father William kept, there are numerous references to the work that Grandfather did, ploughing, cultivating, drilling, pulling weeds and harvesting. Stock was also run, sheep, cattle and pigs. There are frequent records of pigs being slaughtered and bacon cured.
William's family had a strong connection with the Glenore school with the children receiving their education there. Records in William's diary and family stories also indicates a close connection with the various teachers stationed there, with William often supplying meat and other essentials to them. At the weekend and mid-week, the school building was used by the Methodists for Class Meetings, Sunday School and Church, and it was here that Grandfather attended, but at a later time when services at Glenore were reduced to a fortnightly basis, the family would travel the three miles to Whitemore to attend the church there.
Social activities were mostly centred around Glenore, Whitemore, Westbury, and Hagley where, on a regular basis, tea meetings, social evenings and concerts were held. Ploughing matches were a feature of the time with competitions being held at various centres. Grandfather would often attend these, also the Westbury, Longford and Launceston agricultural shows. The Church/Sunday school picnic was also an important social occasion.
From family stories handed down, the young people including grandfather, were involved in a fair number of pranks. Sometimes at the end of a social evening on going to untether their horse to ride home, a person would find it a ghostly white colour, the horse having been whitewashed (lime mixed with water and painted onto the horse). Not wishing to spoil their good clothes, it meant a slow walk home leading their horse and a clean-up job next day. Another regular prank was practiced when jinkers and buggies began to be used, the carriage would be taken to a fence and the shafts pushed through with the horse taken to the other side of the fence and rehitched. Some effort and time was required to unhitch, get the jinker or whatever out of the fence and again hitch up, all often undertaken in the dark.
Throughout Grandfather's life and even into his old age, he took a strong interest in activities on the farm, throughout the district and beyond. And whenever he considered that his view was right, he was not easily swayed into changing his mind. In politics he was a supporter of the Liberal Party, believing that their policies were the most beneficial for the people of Australia. However, his son-in-law, Uncle Jack Chilcott, was an ardent and most fervent supporter of the Labor Party and couldn't wear "Pig Iron" Bob Menzies at all. Many a friendly argument was held between the two, particularly at election time, with neither ever being persuaded to change their minds.
Like many of his contemporaries, he had a strong work ethic, and was not afraid of hard and continuous work. Long hours would be put in daily from Monday to Saturday, with Sunday being a day of rest. Work would start early and go late, with the horses often being fed, groomed and bedded down by lantern light after tea. If things were busy, the arrival of a merchant or agent was not sufficient reason to stop work, therefore that person would be invited to have a discussion while work continued, often walking up and down the paddock following the horses as he ploughed or cultivated or harrowed.
On Sundays only necessary work was undertaken, such as milking and the feeding of stock etc. Anything that could be attended to on Saturday, cooking of meat, cleaning of shoes and bathing, was done then. The family would often attend Sunday School and Church at Butleigh Hill Methodist, just over three miles away. A steady stream of friends and relatives would call on a Sunday and at times through the week, mainly in the evening.
Over the years Grandfather and Grandma maintained friendships with a number of the family and others living in the district and beyond. Relatives included Sie and Elsie Badcock, Arthur and Leila Smith, B.M. and Ruby Badcock, Elton and Rosie Heazlewood and Frank, Arthur and Victor Richardson families. Known friends included, Will and Mrs Smith from Meadow Bank, Tom, Emily and George Parsons, Alex and Ken Campbell families, Mrs Norton, Henry and Kate Hingston, several the Shipp family, Bob, Will, Jim, Harry, George and Ted, the Howards, Jack, Frank and Harry, Arthur Sherwood, Skivings and Henry Murfet.
For a time, their niece, Win Badcock who later married Rupert Barnard, boarded with the family at Stoke while teaching at the Green Rises school. A strong friendship resulted with Win being regarded almost as a daughter and from then, she together with husband Rupert and children, Phillip and Helen, would regularly visit Stoke until Grandfather and Grandma's passing.
Another visitor who caused some interest for a time was that of Mr Bert Monds, a part owner and director of the Monds and Affleck flour mills. The Monds and Badcock families had been friends for many years, both through business and the Methodist Church. For a time, the Monds family had owned and operated the water powered flour mill on the Liffey River at Carrick with William Badcock and relatives selling considerable quantities of wheat to Bert's father. Mr Monds Snr was an active Methodist, including being a local preacher in the area, therefore a considerable amount of contact was maintained through church circles. Consequently, because of past friendships and continuing business contacts, Mr Bert Monds would regularly call and see Grandfather. However, Bert had switched from the Methodist denomination to that of the Jehovah Witnesses and during the 1950s had become convinced that the Second Coming of Christ was imminent, the Witnesses having set a date when this would occur. Out of genuine concern for Grandfather and the rest of the family, Bert began to regularly call trying to get the family to also change that all might escape the wrath that was about to fall upon all non-true believers. As the designated day drew closer, Bert's' visits became more regular and the urging to convert more intense. The day duly arrived and perhaps out of some casual interest we kept a bit of a look out for the grand event, but yet the day passed the same as any other before. Weeks passed then months with Bert noticeably not calling. Eventually, one of Monds and Afflecks representatives called on business and Grandfather sent a message back to Bert saying, "The world has not come to an end and we are still here and would be very pleased for your visit". Bert did again call and explained that their Church had made a mistake on the date.
In later life when arthritis began to take hold and his mobility was greatly reduced, he continued to work as much as he was able. At grain harvest time he would sew bags and even when well into his seventies, continued to milk three or four cows, separate the milk and sell the cream. Fowls were kept almost to the time of his death and near sundown he would get his egg bucket and with the aid of two walking sticks, shuffle his way around the yard to the known nesting places collecting up the eggs.
He was also a keen gardener, and for many years maintained quite a large area of vegetables and orchard. Because of the difficulty of getting to and from the garden in later life, sometimes he would take his lunch with him and stay there most of the day. Hoeing and cultivating would often be undertaken sitting on a chair or a box, using a fork or a hoe that he had specially made for the purpose.
Grandfather had a particular liking for Kentish cherries and had planted a number of trees in the orchard. However, when the spread of the blackbirds in Tasmania reached this area in the early 1940s, it was discovered that they too were very fond of the fruit and would soon strip a tree as soon as the fruit started to turn red, well before the cherries were properly ripe. Therefore, to have cherries, several large trees were fully enclosed with netting wire, enabling the fruit to be kept until fully ripe and sweet. Many a feed of these cherries were enjoyed while others would be picked and bottled for later use. In the winter, or on some special occasion, cherry pie with cream was always a mouth-watering delight.
Christmas time was always important to Grandfather and Grandma and the family and much effort went into preparing for the event. Grandfather would always ensure that new vegetables would be available if possible and a supply of ham, beef, lamb, and poultry was on hand. Some of the family would come for dinner while others came for tea and always a sumptuous meal would be put on, with all sitting around the tables in front of plates piled high with food. This would be followed by dessert, jelly, fruit salad, flummery, junket and Christmas pudding. By the time that Christmas pudding was offered, our stomachs had mostly passed well beyond their comfort zone, but yet by us grandchildren was never refused. This was because the pudding contained threepenny coins and the opportunity to get some pocket money, which in those days was limited.
The Christmas gift from Grandfather and Grandma was always the same, but was much looked forward too. Each of the grandchildren would receive a small paper bag containing a variety of nuts, jelly beans and other sweets, a chocolate frog and FIVE SHILLINGS. The money was greatly valued and would be saved for some special purpose. For me, I would save it for the Longford Show held in October or nearly 10 months later. Each of Grandfather and Grandma's children and partners would receive a similar bag of nuts and sweets, except the five shillings would be £5-0-0, plus a goose either received at Christmas or at Easter time.
When he was a man in his eighties and still very mentally alert, and I was considering going farming, I asked Grandfather if he had his time over whether he would again go farming. He did not immediately answer and after what seemed like several minutes had passed, I wondered if he had heard my question. At last, he responded, saying, "Yes I would, but I would enjoy myself a bit more".
Community & other activities
Within the Methodist Church, Grandfather sat on at least two committees, the Butleigh Hill Church Trust, where he was treasurer for a time and the Longford Methodist Church Parsonage Trust. Dad in his diary mentions him going to working bees and assisting with preparations for the Sunday School anniversary and Harvest Thanksgiving services.
For 12 years from 1940 to 1952, he was a member of the Longford Municipal Council, one of the three councillors for the Bishopsbourne ward.
During the Second World War he was an active member firstly of the Australian Comfort Fund at Bishopsbourne and when this was disbanded on the 27 October 1941 and the Bishopsbourne Patriotic Fund formed in its place, was a founding member and the assistant chairman. This committee was further changed on the 22 March 1943 with the forming of an associated committee, known as the "Bishopsbourne Farewell and Welcome Home Committee". The purpose of the Patriotic Fund was to raise funds to support the work of the Red Cross and the Australian Comfort Fund. Grandfather did a considerable amount of collecting and work in organising various fund-raising functions.
He was also active in the forming of the Farmers and Graziers Co-op Society Limited and was one of its first shareholders. It was launched in the Bracknell Town hall and eventually opened stores throughout Tasmania. Its aim was to give better purchasing power to farmers.
Grandfather was also instrumental in getting an improved telephone service for the Bishopsbourne and Toiberry districts, with an automatic system being installed in the early 1950s. This provided a 24-hour service whereas the manual system was only available during certain hours and was quite restrictive. At the time, the proposal and installation was quite controversial in the area, as a number of people considered it to be taking jobs away, however in due course when the benefits were realised, was well accepted. With some it became a matter of pride that Bishopsbourne had a 24-hour automatic service even before that of Launceston.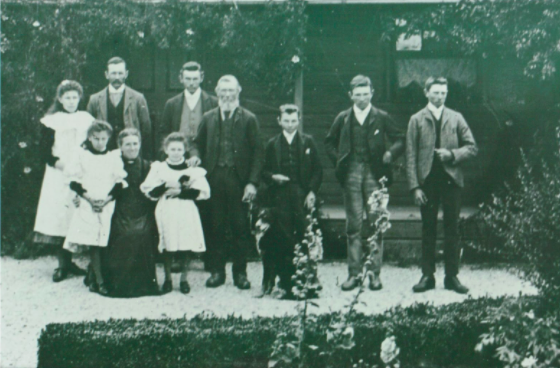 (1) – Charles William BADCOCK 15 Feb 1865 – 10 Jun 1865
(2) – Ernest John BADCOCK 29 July 1866 – 31 Jan 1946
m (1) Mary Townsend COX 20 May 1862 – 10 Dec 1908
Chn:- Eunice, Ewart, Helen (Connie), Doris and Ian
m (2) Esther LAWSON 13 May 1892 – 3 Aug 1950
Chn:- Samuel, Leonard, Colin, Bruce, Basil, Ray and Denzil
(3) – Florence Ann BADCOCK 23 Sept 1868 – 6 Aug 1870
(4) – Gertrude Ellen BADCOCK 6 Sept 1870 – 22 Feb 1878
(5) – Ethel Jane BADCOCK 5 Sept 1872 – 30 May 1936
Frederick John BRATTON 21 Jan 1870 – 9 Jan 1954
Chn:- Eileen, Russell and Hedley
(6) – Silas William BADCOCK 26 May 1874 – 15 Dec 1963
Elsie May SPOTSWOOD 28 Dec 1873 – 31 Oct 1952
Chn:- Fanny, Dulcie and Ken
(7) – Arthur Samuel BADCOCK 12 May 1878 – 28 May 1950
Linda Catherine BARNARD 26 Jul 1877 – 6 Dec 1943
Chn:- Brycie, Winifred, Irene and Frances
(8) – Melvyn George BADCOCK 18 Jul 1879 – 24 Sept 1964
Evelyn RICHARDSON 6 Jan 1884 – 12 Aug 1965
Chn:- Eric, Trevor, Tasman, Lillias (Joyce), Jeffrey and Raynor (Lloyd)
(9) – Hilda Mary BADCOCK 14 Oct 1880 – 25 Jan 1969
Charles Alfred WALKER 10 Apr 1871 – 24 May 1953
Chn:- Reginald, Florence and Thomas
(10) – Walter Thomas BADCOCK 15 Feb 1883 – 8 Sept 1954
Gladys BOON 8 June 1896 – deceased
Chn:- William (Bill)
(11) – Isabella Rose BADCOCK 19 Apr 1885 – 16 Dec 1971
Elton HEAZLEWOOD 31 Mar 1886 – 24 Jul 1973
Chn:- Marjorie, Mary, Doris, William (Bill), Eric and Kathleen
(12) – Leila Kate BADCOCK 26 Jan 1887 – 11 Mar 1985
Arthur Henry SMITH 7 Jul 1889 – 18 Jun 1966
Chn:- Nil
Evelyn Badcock (nee Richardson)
Evelyn, our grandmother, was born at Exton, Tasmania on the 6 January 1884, the eighth child of an eventual family of 11 children born to Isaac Simeon and Mary Ann (nee Walker) Richardson. We mostly knew her as Grandma Badcock, but sometimes in our earlier years as Mum-Mum. This name, together with Dad-Dad for grandfather, were given by a grandson Terry, to distinguish his parents from those of his father's parents while they were living together in the same home at "Stoke" and was adopted by later grandchildren.
Evelyn, like many of the descendants from her grandparents, Michael and Sarah Walker, was of a sturdy build, about 5 ft. 4 ins. tall, with fair skin and greenish coloured eyes, and with strong, slightly wavy light black hair. Her nature was retiring but friendly, but could be bossy at times. Her health was generally good till later life when she suffered much from ulcerated legs and arthritis. Sometimes her arthritis was so bad she could not walk and to get around the house would crawl, sometimes for weeks at a time and in attending to her housework would put items on a tray and push them ahead of her as she crawled.
At the time of Grandma's birth, the family were living on a farm known as the "Back Place", Paddy's Scrub near Osmaston which is south from Exton. Later they moved to "Room's Place", so named as it was owned by a Mr Room of Launceston. This property now known as "Llanistan", extends to the south from the Exton township with the house, which still stands, being found within the township boundary on the eastern side.
At Exton, Evelyn attended Ned Blyth's school and the Wesleyan Methodist Sunday school. She was an average scholar and made many friends there, some of whom she remained in contact with all her life. Her schooling was limited, as at the age of 11 years her mother contracted scarlet fever and was laid up for some time and Grandma was kept home to help with the work. With eight men at home she was kept quite busy cooking and washing. She sometimes would recall that clothes washing for that many was quite arduous, her only equipment being an old washing board and detergent, handmade soap.
One story she would sometimes recount, concerned a fellow girl student who had physic powers and ongoing into a trance, could tell details of events she had no direct contact with. On one of these occasions a cow had gone missing and ongoing into a trance, she advised the cow had given birth to a calf, which was dead, and both could be found behind a log in a particular area of the farm. Searchers, on taking her advice, found the cow and calf as stated. This same girl also claimed of having the power to make her teacher get down on her hands and knees and eat grass like a cow, but fortunately, there is no record of her making the teacher do this.
In 1907 when Evelyn was 23 years of age, her father Isaac purchased the farm "Cripplegate" at Hagley and the family moved there. Soon after arrival, the property was renamed "Lenna". Three years later on the 20 April, 1910, she and Melvyn were married at the Richardson home followed by a reception also held at "Lenna". This had been preceded by a kitchen tea organised by a friend of Grandmas, Kitty Hawke, who at the time was living at "Retreat", a farm property located between Exton and Deloraine. Her letter of invitation to Grandfather is as follows: –
"Retreat"
April 4th.,10
Dear Melvie,
We intend and have made all arrangements to give Ev. a
Kitchen Tea on Thursday night next (7th) at 7.30 p.m. and want you
to be sure and come without fail.
Will be pleased to see Rosey and Leila or any of the others if they care to come.
Have sent word to Ev. so do not fail to attend.
In great haste,
Yours sincerely,
Kitty.
P.S. To be held in the Sun. School at Exton.
About a month after their marriage, they moved to "Sunny Rises", a farm property in the Green Rises district of Cressy, their home being about three miles in a direct line in a southerly direction from the Bishopsbourne township.
At "Sunny Rises" six children were born into the family, Eric, Trevor, Tasman, Joyce, Jeff and Lloyd. Eric was born at home and attended by nurse McShadel of Westbury, Trevor – born at Mrs James', Longford, Tasman – born at home. Grandfather got nurse Cappa from Bishopsbourne to assist. Joyce and Jeff were born at "Sunny Rises", with Nurse McShadel again assisting with both. Lloyd was born at Nurse Harvey's Hospital at Deloraine. This hospital at Barrack St., Deloraine, was operated by Margaret and Rosa Harvey with assistance from their sister Sarah Jane (Jean) Harvey, all first cousins of Grandma.
While in hospital Susie Hawke, accompanied by her son Loui, came to keep house. Some of the family remember Grandma before going away cooking a large batch of Grandfathers favourite ginger nut biscuits, but it would seem were also enjoyed by the Hawkes as they ate most of them. It is said that Grandfather was not pleased.
Tasman was still born at home and was buried in the "Sunny Rises" garden. Dad recalls grandfather carrying the baby in a cardboard box and burying him beneath the love bush next to the house, on the southern side. It is said that Evelyn suffered a lot with headaches while carrying him, and Grandfather in effort to alleviate the headaches, went to Longford and got some tablets for her to take. The attending nurse said that the tablets should not have been used and had probably killed the baby.
All the children, apart from Lloyd, started school from the "Sunny Rises" home, with Dad and Trevor going to the Butleigh Hill school, which was to be found in the Methodist Church yard, and held in the former caretaker's cottage. A wall had been taken out to make two rooms into one with the teacher living in the remaining part of the house. This school was three and a quarter mile from "Sunny Rises" making a round trip of six and a half miles a day.
Joyce, Jeff and Lloyd, and Trevor for his last year, attended a new school built along the Green Rises road not far from the former Butleigh Hill school but still a three mile walk from home. This school was closed and removed to the West Kentish region on the North West Coast, with Lloyd who was still at school, then being required to ride his bike daily from "Stoke", from where the family had moved in 1927, to school at Bishopsbourne for his last year. The last teacher at Green Rises was Win Barnard, a niece to Grandfather and Grandma, and lived with them while teaching there.
Some of the prior teachers at the Butleigh Hill and Green Rises schools were – Miss M Blyth (1917-18), Miss L Caldwell (1919), Miss C.E. Cole (1920), Miss F Brakey (1922), Miss F Riley (1923), Miss S Boucher (1924-25), Miss K.B. Mackey (1926-29), Miss Hoggett and Miss Viney.
For transport Miss Viney used to ride a motorbike and which at the time, was thought to be a bit way out for a woman to do, and drew quite a bit of comment around the district.
Evelyn always had the best interests of her family at heart and was known to cook separate meals for the family if one or more did not like a particular kind of food. And if Grandfather sent any of the children to bed without their tea, she could not bear the thought of them going hungry, and would discretely take food to them in their bedrooms.
Grandma always well-supported grandfather on the farm and in the families outside interests. At grain threshing time, gangs of men, sometimes as many as 20 at a time, needed to be fed and with some staying on the job, this meant preparing meals for breakfast, dinner and tea as well as morning and afternoon teas. A vivid memory of Aunty Joyce and others is seeing not only food but hot tea in buckets being carted to the hungry and thirsty workers.
She was also a good support at the Butleigh Hill church and at the school, doing a great deal of cooking for the Sunday School tea meetings and church fairs, also for the local school. When Grandfather was a member of the Longford Council she also regularly attended various functions with him. From Dad's diaries, it is also apparent that a good number of visitors came to the home with some staying overnight or longer.
Dad recalls Grandma going to stay with some of her sisters and brothers, and their families, and for those living on the North West Coast, travelling there by train. She would often take some of the children with her and move from place to place over the several weeks away.
After Grandfather's death in 1964 she remained at "Stoke" with continuing paid help, and then went into an aged care home, firstly to a home in Welman Street, Launceston and then to York Street. She died there peacefully on the 12 August 1965, just 10 months after the death of Grandfather. Her funeral was held at the Longford Methodist Church and remains cremated with ashes interred with those of Grandfather, at Carvilla, Launceston, located in the low wall around the crematorium building on the southern side.
Evelyn was the longest living member of her brothers and sisters, reaching the age of 81 years, and was the last surviving member of the family. Only four of the eleven survived beyond the age of seventy, with four dying under the age of 60 years.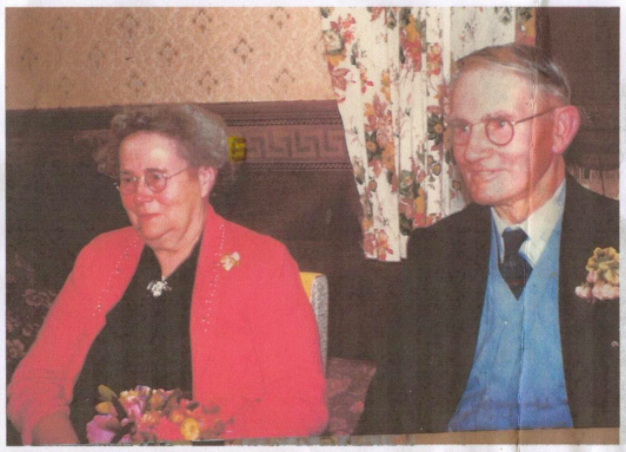 Richardson Family
Isaac Simeon RICHARDSON 22 Sept 1843 – 6 Jul 1919
Mary Ann WALKER 1 Aug 1849 – 20 Sept 1910
(1) – Alfred John RICHARDSON 20 Mar 1872 – 10 Apr 1937
Louisa Charlotte MORSE 27 Mar 1874 – 7 Jul 1948
Chn:- Harold, Leila, Ella, Arnold, Ethel and Ray
(2) – Clarence William RICHARDSON 12 Mar 1874 – 21 Oct 1950
Minnie IBBOTT 7 Jul 1876 – 1 Apr 1958
Chn:- Ilma, Reg, Ivy, Allan, Hedley, Edith and Les
(3) – Sarah Matilda (Tot) RICHARDSON 18 Jul 1875 – 5 May 1915
(4) – Frank Edmund RICHARDSON 15 Nov 1876 – 7 Sep 1936
Ida May FRENCH 10 Jan 1891 – 13 Feb 1971
Chn:- Ila, Viv, Roy, Athol and Eric
(5) – Norman Thomas RICHARDSON 4 May 1878 – 21 Sep 1944
Nellie IBBOTT 4 Dec 1883 – 11 Sep 1966
Chn:- Mervyn, Lillian, Clifford, Earl, Arthur, Lorna, Hector, Leonard, Florence and
Ernest.
(6) – Albert Edmund RICHARDSON 21 Mar 1880 – 15 Apr 1880
(7) – Henry Samuel RICHARDSON 6 Sep 1881 – 28 Jul 1942
Inez Melvina Gertrude HEAZLEWOOD 27 May 1885 – 26 Sep 1956
Chn:- Ira and Ray
(8) – Evelyn RICHARDSON 6 Jan 1884 – 12 Aug 1965
Melvyn George BADCOCK 18 Jul 1879 – 24 Sep 1964
Chn:- Eric, Trevor, Tasman, Lillias (Joyce), Jeffrey and Raynor (Lloyd)
(9) – Arthur Isaac RICHARDSON 21 Nov 1885 – 23 Jul 1938
Evelyn Anne FRENCH 19 May 1889 – 5 Jan 1978
Chn:- Gwen, Minnie, Cyril and Ken
(10) – Victor RICHARDSON 20 Jan 1887 – 18 Jul 1958
Queenie Emily Florence SOUTHERWOOD 6 Nov 1885 – 7 Feb 1968
Chn:- Mona, Lucy, Dorothy and Joy
(11) – Charlotte Ruby Myrtle RICHARDSON 16 Mar 1890 – 6 Sep 1941
Basil Melmouth BADCOCK 25 Jan 1883 – 3 Jul 1968
Chn:- Jean, Vera, Winifred (Merle), Beryl and Beverley
Written by Ivan Badcock 2002 – updated October 2021