Settler Farmer, Churchman, Artist, Justice of the Peace, Anti-transportationist, Municipal Councillor and Tasmanian Premier.
When William Pritchard Weston, the son of John Weston a surgeon of London, left England in 1823 aboard the "Adrian", he was 19 years of age and was carrying a letter of recommendation from a friend at the Colonial Office, London stating that he had capital of more than £3,000.

On the voyage, he met his wife to be, Ann Elphinstone, the daughter of the Peninsular War veteran, Captain William Clark, whose family had embarked at the Cape. Also travelling on the same voyage was the new and first Lieutenant-Governor of Van Diemen's Land, Colonel George Arthur.

When William and Ann were married at her parent's property, "Cluny" at Bothwell in 1826, Governor George Arthur lent his carriage to take the clergyman from Hobart for the occasion.

In 1826 William Weston was granted 2,246 acres of land known as "Maitland", located midway between Bishopsbourne and Longford. At the same time, Weston also purchased the "Hythe" property of 322 acres fronting onto Wilmore's Lane nearer Longford, wherein 1831 he built a Regency style residence. While living at the home eight children were born to William and Ann and they were to remain there until moving to Geelong, Victoria in the mid-1860s.

Weston was noted as being a deeply religious person and in 1828 was appointed a catechist and lecturer to the Longford district on a salary of £100 per year. On being charged with neglect of duty and although cleared, resigned from the position but continued to do much missionary work among the country people of the Midlands. He was a large contributor, subscribing £105 to the building of Christ Church, Longford in 1840, where he was also a churchwarden. He later broke with the Church of England and joined up with his friend, the Rev. John West and assisted with the founding of the Congregational Church in Launceston.

He too was an accomplished artist and a number of his sketches have survived depicting scenes around Longford from the 1840 era.

He was also very active in civil and Government affairs. In 1835 Governor Arthur appointed him as a Justice of the Peace and a few years later became an active member of the Anti-Transportation League. In 1851 he together with Rev. West were appointed as Tasmania's representatives to the Melbourne meeting of all Australasian Colonies, which included New Zealand, whose aim was to bring to an end the transportation of convicts to the region. Both William Weston and the Rev. John West were major contributors to the final cessation of transportation which occurred in 1853.

Interestingly at that 1851 Melbourne meeting not only did the League adopt a constitution but also a common flag of the association – a blue ensign with Union Jack in the upper hoist corner and in the centre five white stars of the Southern Cross, these being the familiar constellation seen in skies in the Southern Hemisphere, and being emblematic of the then five Colonies. This flag is very similar to the present-day Australian and New Zealand flags.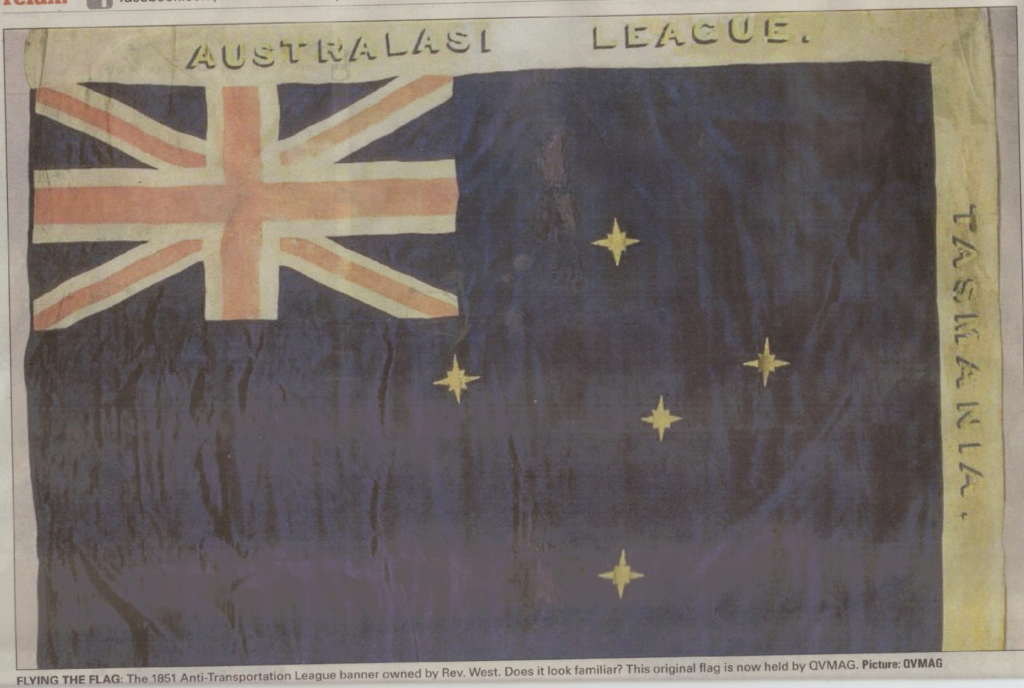 In 1856 Weston was elected to the Tasmanian House of Assembly, becoming Premier in 1857 but resigning after a month. Soon after he was elected to the Legislative Council and in November 1860 was again elected Premier, but in August 1861 resigned from Parliament due to ill health. Then in the same year, 1861, when Longford was proclaimed a Municipality, Weston was one of the six councillors first elected.
However, by the mid-1860s William and his wife Ann had moved to Geelong bringing to an end just over 40 years of association with Tasmania and during which time he was a significant contributor to its life and direction.
Written by Ivan Badcock, 29 November 2004